Jersey and Guernsey Inter-Insular Trophy switched to T20 format
Last updated on .From the section Cricket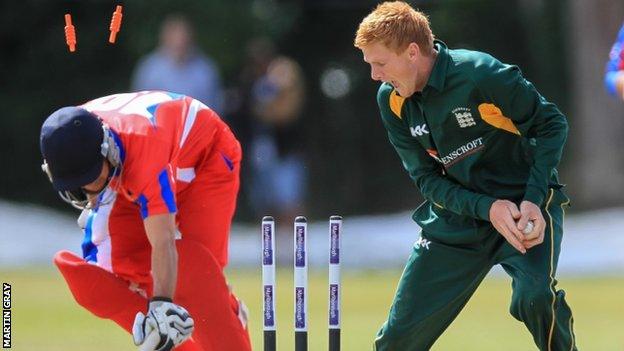 The Inter-Insular Trophy between Jersey and Guernsey will be played using the game's shortest format for the first time this summer.
The two island sides have met annually since 1950, firstly in a one-innings timed match, then a limited-overs fixture from 1978.
But fixture congestion has forced a rethink and they now meet in three T20s at Farmers Cricket Club in Jersey.
"This is a great compromise," said Guernsey cricket director Mark Latter.
"The Inter-Insular Trophy is steeped in history and we respect that and look forward to returning to the 50-overs format here in Guernsey in 2019."
The matches, to be played on 17 and 18 August, will serve as warm-up for the ICC Europe Sub-Regional T20 Qualifier, which will be hosted by Jersey from 27 August to 4 September.
"It should produce an exciting weekend of cricket and both countries are committed to reverting to the traditional format in 2019." said Chris Minty from the Jersey Cricket Board.
Jersey and Guernsey also compete against each other in rugby union - playing for the Slam Cup since 1920, the second-oldest rugby trophy behind the Calcutta Cup - and the Muratti Vase football tournament, which also involves Alderney.