Kevin Pietersen: An idiosyncratic genius who could be both divisive and dazzling

By Tom Fordyce
Chief sports writer
Last updated on .From the section Cricket419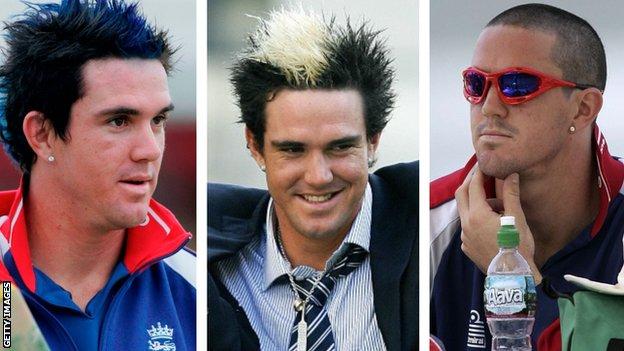 Great sporting careers don't always end in the style that has defined them. Bobby Moore played his final game of football for the Carolina Lightnin'. Andre Agassi lost his last match in tennis to world 112 Benjamin Becker.
You can read a little more into the fact that Kevin Pietersen appears to have waved goodbye to professional cricket after scoring seven runs for Quetta Gladiators in a six-wicket defeat by Islamabad United.
Banished from the England set-up four years ago, denied a valediction on the biggest stage even as he prepared to take revenge with a memoir as destructive as any of his best innings, Pietersen has been travelling the world with his Spartan KP Rhino bat in hand ever since, on the moneyed margins of the game and doing rather nicely out of it all the same.
At 37 he would hardly be cutting his career short. The lure of playing Peshawar Zalmi in Lahore may not have been enough to keep a young thruster interested, let alone a man who won four Ashes series and was once described as the most complete batsman in modern cricket.
Cricket is no longer his obsession. He has announced on social media that he intends to put his energies towards saving the endangered rhino, in which case a few odd-toed herbivorous ungulates can expect to be upstaged.
There were more reliable cricketers than Pietersen. There have been stars more liked by their team-mates and less susceptible to hubris. But few England players in the past 40 years have had the same electrifying effect on the game in this country, and few have dominated their stage in the same way.
Pietersen was different in temperament to the other two you might put on that brief list, Ian Botham and Andrew Flintoff. You always got the sense that he was admired rather than loved by England's support, his bristling confidence not leavened by the same self-deprecation as Flintoff nor his public pronunciations as no-nonsense 'white van man' as Botham's.
Like those two he made a poor England captain. Idiosyncratic genius works better set free rather than shackled by responsibility. Yet he was impossible to ignore when he came to the crease and he was unforgettable when he found his sweet groove.
Great players don't just score great innings. They change games and win matches.
That was what Pietersen did with his finest displays: the 158 against Australia at The Oval in that glorious late summer of 2005, his blistering 227 in Adelaide during the Ashes triumph of 2010-11, the 202 not out against India at Lord's in 2011 that helped make England the top-ranked team in Test cricket.
Pietersen could seem like the embodiment of the old cliche about cricket being an individual contest in a team game. Barring a change of heart, he will finish his career having played for 14 teams, including Sunfoil Dolphins, St Lucia Stars and Rising Pune Supergiant, which reflects his personality and its impact as much as the mercenary nature of modern global cricket.
Despite the English mother and the tattoo of the three lions on his left triceps, you were never quite sure where he belonged. Neither was he.
"There is a massive trust issue between me and Kevin," admitted Andrew Strauss, who had captained him in two of those Ashes wins, when he first took over as England's director of cricket in May 2015.
Strauss could have been speaking for several others whose task it was to manage a man once dubbed 'The Ego' by Australia's close-in sledgers. Sometimes it seems remarkable that he made it past 100 Tests for England, a maverick with the air of permanent impermanence.
He could be surprisingly insecure, a trait which could unfortunately present as arrogance. It was there in one of his most famous comments of all, during the home series against his native South Africa in 2012: "It's not easy being me in that dressing room."
It was all there in one of his retirement tweets on Saturday: "Just been told that I scored 30,000+ runs which included 152 [fifties]& 68 hundreds in my professional career. Time to move on."
His best captains understood what he was really like and allowed him to flourish as a result. There is a reason Michael Vaughan got the best out of him and a reason why Vaughan this weekend has described him as the best batsman he ever played with.
It's easy to say that Pietersen's divisive personality prevented him achieving more. It's harder to recall that he made more Test appearances than Wally Hammond, Ted Dexter and Peter May, ended with a higher Test average than David Gower, Geoff Boycott and Colin Cowdrey, and made more Test centuries than Graham Gooch, Len Hutton and Ken Barrington.
For all his swagger, for all the controversy that accompanied his eventual exclusion from the international set-up, England probably got as much out of them as they could. He may have preceded Strauss's decision not to recall him in 2015 by making 355 not out for Surrey, but he had averaged an underwhelming 34 in his previous 10 Tests, was a month shy of his 35th birthday and scored those spectacular runs against a county, Leicestershire, who hadn't won for two years.
And England should be grateful. Pietersen - the switch-hits, the skunk hair, the one-legged flicks through midwicket, the strolls down the wicket to startled fast bowlers - was like few who had come before and none who have come since.
The Ego seems finally to have landed. And no-one will forget the ride that came before.