England to play three Tests, five ODIs & a T20 in Sri Lanka in October/November 2018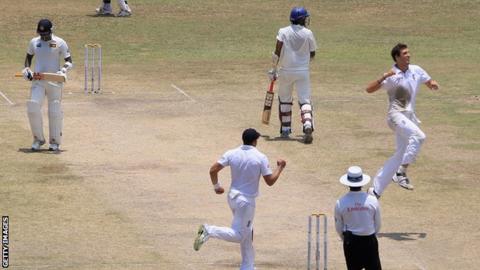 England will play three Tests, five one-day internationals and a Twenty20 international in Sri Lanka in October and November.
The winter schedule begins with a five-match ODI series, starting with a day-night game in Dambulla on 10 October.
The sole T20 game takes place on 27 October in Colombo, before the Test series begins on 6 November in Galle.
The Tests - England's first in Sri Lanka since 2012 - will be held in Galle, Pallekele and Colombo.
England drew their last Test series in Sri Lanka 1-1 and travelled again in 2014 for a seven-match one-day series, which the hosts won 5-2.
After spending Christmas at home, they are next scheduled to visit West Indies in the spring.
England's winter tour of Sri Lanka in 2018
October
5 50-over tour match v Colombo (RPS)
6 50-over tour match v Colombo (RPS)
10 1st ODI, Dambulla (d/n)
13 2nd ODI, Dambulla
17 3rd ODI, Pallekele
20 4th ODI, Pallekele
23 5th ODI, Pallekele (d/n)
27 Twenty20 international, Colombo (RPS)
30-31 Two-day tour match, Colombo (NCC)
November
1-2 Two-day tour match v CCC, Colombo
6-10 1st Test, Galle
14-18 2nd Test, Kandy
23-27 3rd Test, Colombo (SSC)