England cricket national selector James Whitaker to step down in overhaul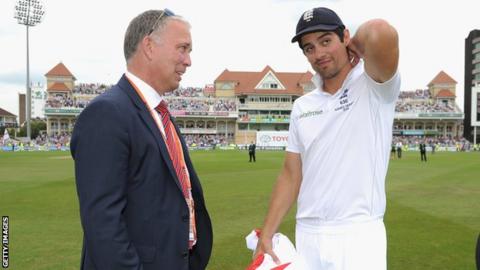 James Whitaker will step down as England's national selector at the end of March as part of an overhaul of how the country selects players.
Whitaker had been a selector for a decade and chief selector since 2013.
Under its revamp, England will bring in a scouting system with a minimum of 12 "discipline-specific scouts".
They will provide information to a panel made up of a new national selector, a full-time independent England selector and the head coach.
"The new approach will allow us to see more players throughout the county game, more often, and simplify the selection process," England director of cricket Andrew Strauss said.
"We will have a greater body of information, deeper insight into the talent we can pick and a better understanding of who to help develop across the red-ball and white-ball games."
The England and Wales Cricket Board says it hopes to have Whitaker's replacement in place in time for the next selections, England's Test series against Pakistan in May.
What the change means
Whitaker is currently is assisted by selectors Angus Fraser and Mick Newell, who will remain in place until the new roles are filled and are free to apply for them.
The existing system has been heavily criticised in the past.
Former England all-rounder and current Durham chairman Sir Ian Botham has suggested there is a conflict of interest because Fraser and Whitaker are directors of cricket at Middlesex and Nottinghamshire respectively, something Strauss has denied.
Following the changes, Fraser and Newell would have to leave their county roles if they wanted to apply for the new roles.
The England selector will report into the national selector, who has overall responsibility for selection for all England men's senior squads along with the Lions programme and U19 squads.
Whitaker's up-and-down spell
During his time as selector and national selector, Whitaker has overseen four Ashes series wins and England's first global ICC trophy, the 2010 Twenty20 World Cup.
However, the team have also lost back-to-back overseas Ashes series without winning a Test and have lost nine of their last 11 Tests away from home.
"It has been an immense privilege and an honour for me to have been an England selector for the last 10 years," Whitaker said.
"I am very proud of what the team has achieved during this period and will always treasure the memory of those four different Ashes series wins and our first ever victory in an ICC global event.
"I have been involved for a decade now and it feels that the time is right, with this new approach, for me to move on."