David Warner: 'Vile' comments by De Kock prompted row, says Australia vice-captain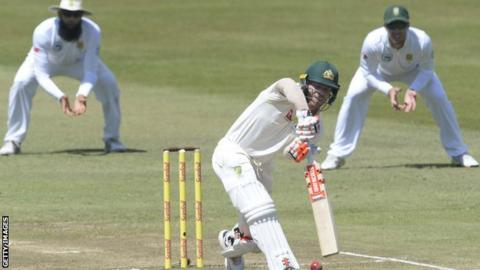 Australia vice-captain David Warner says that "vile and disgusting" remarks about his wife prompted his altercation with South Africa's Quinton de Kock.
The International Cricket Council (ICC) fined both players for the incident during the first Test in Durban.
"I'll always stick up for my family and in that case my team-mates as well," Warner said.
"My emotional response was just something that I don't believe should have been said."
He added that "a comment that was vile and disgusting and about my wife and just in general about a lady was quite poor, I felt".
Warner was fined 75% of his match fee by the ICC on Wednesday and given three demerit points after video footage appeared to show him being restrained by team-mates during a row with the South Africa wicketkeeper.
The row took place on a stairwell as players returned to their dressing rooms at tea of the fourth day.
De Kock was fined 25% of his match fee by the ICC, which issued him with one demerit point.
"I would have liked him to actually say the comment a little bit louder instead of just muttering it under his breath next to me and [wicketkeeper] Tim Paine and then walking up the stairs and saying 'I didn't say anything' as soon as the rest of his team came out," Warner added.
"At the end of the day, we're all men - and if you're going to say something, you look at someone in the eye and say it."
Warner - who is clear to play in the second Test - said he did not intend to get physical with De Kock.
However, his comments are likely to be seen as inflammatory by South Africa, who were unhappy with the 31-year-old for his behaviour towards their opening batsman Aiden Markram following the dismissal of AB de Villiers.
Under the ICC's new points system, another transgression by Warner in the next two years could see him suspended for a Test.
Australia lead the four-match series 1-0 after victory in Durban. The second test starts on Friday at St George's Park in Port Elizabeth.