Michael Hogan: Glamorgan batsmen must go back to basics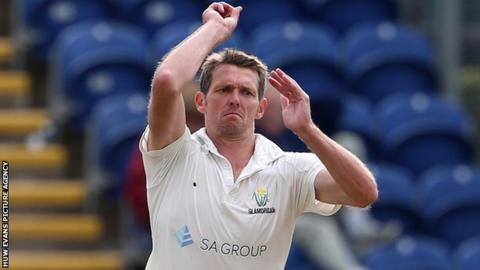 Glamorgan's County Championship captain Michael Hogan says the team will go "back to basics" in an effort to climb the Division Two table.
Australia-born Hogan, 36, is preparing for his first full season in charge of red-ball cricket.
"We want to go back to the basics, we've tried playing an attacking game and it hasn't really worked," he said.
Glamorgan ended seventh of ten teams in 2017, winning three and losing seven of their 14 matches last season.
"We're going to try to play a different brand of cricket this year and build a reputation as a good tough side," Hogan told BBC Sport Wales.
"With [former coach and captain] Matt Maynard coming on board [as consultant batting coach], he's been able to talk the young guys through planning the way they build an innings, instead of thinking you can go [hard] from the start.
"If you're an experienced side, you can do that, but at this stage we need to learn the game again."
Marsh experience 'right on the money'
Glamorgan could start the Championship season with four of their top five batsman aged 22 or under, with Australian Test star Shaun Marsh being the exception.
The county are hopeful the 34-year-old will not miss much of the 2018 UK campaign through international calls despite his successful return in the Ashes series against England.
"I'm excited about what he'll add to the side in terms of runs, experience and leadership," said Hogan of his former Western Australia team-mate.
"He's not a loud character, but when he speaks it's generally right on the money.
"He'll add a lot to our dressing-room in terms of toughness and there's nothing he hasn't done in the game with hundreds in every format."
No signs of stopping
Hogan, Glamorgan's leading wicket-taker in Championship and T20 cricket in 2017, is confident he can maintain his personal standards after signing a contract extension to cover 2019.
"It's relief and I'm happy to get that done before the season," said the seam bowler.
"I've no issues with falling away at the moment and I'm confident I can play at least the next two years."
When asked if he would continue to play on until the age of 40, Hogan said: "You never know, I've spoken with [chief executive] Hugh Morris and we'll take it year by year.
"I'm happy with that and I'm excited to try to progress the young lads through this phase, so my main focus is improving Glamorgan."