Glamorgan Cricket: Student pair likely to start season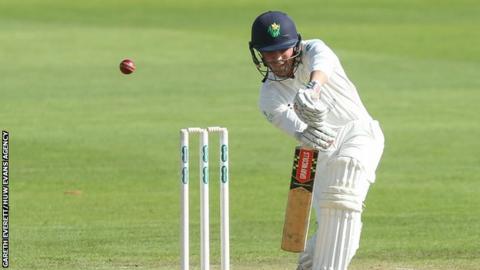 Glamorgan look set to start the Championship season with students Connor Brown and Kiran Carlson in the top four of their batting line-up.
The pair will be available despite their university commitments in Cardiff.
"They finished the [2017] season in the team and they'll have a very good chance of starting the season in the team," said coach Robert Croft.
Australian Test star Shaun Marsh will add experience to a raw top-order.
Marsh replaces the now-retired South African batsman Jacques Rudolph, but limited-overs captain Colin Ingram has given up four-day cricket, while Glamorgan's most experienced Welsh batsman Will Bragg has retired after illness.
Opener Nick Selman, 22, will only be in his second full season alongside Brown, 20, and Carlson, 19.
"We're excited by the young players we have here, but it's also coincided with those three senior batters finishing, so there's a natural transition happening right now," Croft told BBC Sport Wales.
"We're making sure we make the most of the talent we develop here in Wales, and also players we're signing and developing through the Glamorgan system."
"Tough environment"
After two seasons in the lower half of the Championship second division, Croft is reluctant to commit to specific targets in the table.
"What I'm concentrating on is developing a team," he stressed. "We've got some seniority but we've got a batch of young players that we've invested a lot of time in, we believe we're making them better and they need time on the field.
"Four-day cricket is a far tougher environment to build a team and it takes more time, one-day cricket is a different animal."
Despite the new T20 franchise tournament on the horizon in 2020, and England players such as Alex Hales and Adil Rashid giving up the Championship game, former England all-rounder Croft is bullish about the survival of four-day county cricket.
"It's a challenge for us [to maintain the importance of the Championship], but I'm confident here at Glamorgan we have enough people developing the game who have a massive respect for four-day cricket.
"It's still a brand a lot of supporters love, and there's a better chance of our players becoming far better T20 and white-ball players if they've got a solid four-day basis."
Glamorgan have a 10 day camp in Dubai starting on 20 March, followed by seven days of friendlies in Cardiff, before their Championship season begins against Gloucestershire in Bristol on 20 April.