Alex Gidman: Worcestershire bring back former batsman as second XI coach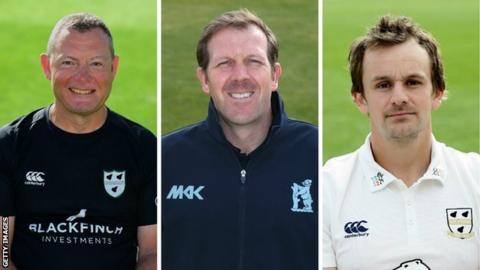 Worcestershire have completed the winter overhaul of their coaching team by bringing back Alex Gidman to New Road as second XI coach.
The former Gloucestershire captain, 36, first moved to Worcester near the end of his playing career in 2015.
He now returns as part of the reshuffle following director of cricket Steve Rhodes' departure in December.
Kevin Sharp became head coach, while Alan Richardson was brought back to replace Matt Mason as bowling coach.
Mason, who had previously been not only bowling coach but Rhodes' right-hand man, was initially offered the role of second XI coach for the Division One side.
But, following the return of former Pears paceman Richardson from Warwickshire, Mason opted instead to move to Leicestershire, ending a 16-year association with New Road.
In a winter of change in Worcester, the county also made a key appointment at boardroom level, appointing another former player, Matt Rawnsley, as chief executive.
Since retiring prematurely with a finger injury in February 2016, after just one of his scheduled two seasons at New Road, Gidman has turned to coaching and worked with the MCC Young Cricketers last summer.
"He is a smart man, he has got captaincy experience, he is an outside of the box thinker, he sometimes thinks of things others wouldn't think if and I've always enjoyed that in Alex," said Sharp.
"He will compliment our coaching team. And the lads will be delighted with his appointment."
"I've learnt a lot away from cricket which I think has been very helpful and developed me as a person and a coach," said Gidman, who is also studying psychology.
"Getting back into the professional game was always something I'd have liked to have done. Opportunities don't come around very often."