Sam Hain: Bears batsman good enough to play red-ball for England, says Ashley Giles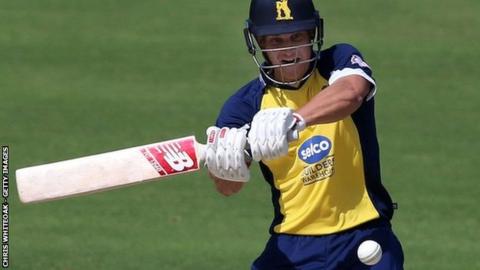 Warwickshire boss Ashley Giles says that England Lions batsman Sam Hain has the potential to be playing Test cricket within the next 12 months.
Hain shone after being called up by England Lions in Antigua on Wednesday, hitting 144 against West Indies A.
And Giles insists that there could be a lot more yet to come from the 22-year-old in white and red-ball cricket.
"In white-ball cricket terms, you could probably argue that this England call is overdue," Giles told BBC Sport.
"Look at his record. In T20, he averages 33.16 at a decent strike rate. But, in 50 overs, he's up to 59.54. At his age, that's in the world-class bracket."
The former Australia Under-19 international's first innings representing his adopted country ended in failure in the Caribbean.
He got out off the last ball of the match, caught on the boundary trying to hit a six to win. But Giles has no worries about his white-ball ability and simply wants him to find that same run-scoring potential in first-class cricket.
"His attention to detail on the red-ball stuff has been admirable this winter," added the Bears sport director. "If he carries on the work he's done this winter, I have no doubt he'll fly and have a fantastic career in red-ball cricket.
"That is his final frontier. If he can crack that, I'm a big believer that he'll play red-ball cricket for England within 12 months."
Hain's career swing
As befits a young player who was born in Hong Kong, and raised in Australia, in Queensland on the Gold Coast, Hain's career has already been full of contrast.
When Hain first arrived in English cricket in 2014, he made an immediate impact in the County Championship, hitting four centuries to total 823 runs in 12 first-class matches.
But, in three summers since, he has reached three figures in Championship cricket only three more times and, while his total of first-class runs is down season on season, that is in direct contrast to his One-Day Cup form.
In 2016, when the Bears won at Lord's, Hain was the competition's top scorer and he again shone last summer. Yet, in the Championship, he was left out, playing just one game over the second half of the summer.
2014: 823 first-class runs in 18 innings at 51.43.
2015: 547 first-class runs in 17 innings at 36.46.
2016: 457 first-class runs in 23 innings at 20.77, 540 One-Day Cup runs in 10 innings at 60.00, 371 T20 Blast runs in 12 innings at 33.72.
2017: 312 first-class runs in 16 innings at 20.80, 532 One-Day Cup runs in 9 innings at 66.50, 458 T20 Blast runs in 15 innings at 32.71.
"Without giving too much away, it's a technical thing," said Giles. "He gets his balance wrong at times, which affects his alignment. But the coaches have done a lot of work with him and, seeing him recently, he now looks much more efficient.
"It's very difficult to tackle these things in the summer when the schedule is so busy. Sam's red-ball cricket wasn't great so we did bring it up at the time and think about what the path forward was.
"Opposition bowlers always try to be one step ahead but coaching is about making players better. He has that potential but he needs to get the right technique and mindset.
"His hand-eye co-ordination and natural ability to play strokes all round the wicket were never an issue. It was just a question of getting that final final bit in the jigsaw."
'Difficult decisions' to be made
For Hain to ever play red-ball cricket for England, he will have to play Championship cricket for Warwickshire.
And that means fierce competition for places in the relegated Bears' batting order as they look to improve on a Championship summer in which they lost five matches by an innings - and only Jonathan Trott (967 runs at 37.19) had any cause for comfort.
In fact, only three Bears players passed 500 runs in the Championship - and two of them were ostensibly bowlers, Jeetan Patel (608 runs in 13 matches at 27.64) and Keith Barker (536 runs in 12 matches at 29.78).
"We had a lot of criticism last season and quite rightly," admits Giles. "Apart from Trotty, Ian Bell was the only other frontline batsman to make over 500. But it was an area we'd already looked at, which is why we brought in Dom Sibley and Adam Hose.
"Sam Hain didn't play a lot towards the end of last season, Hose wasn't allowed to play red ball, we also have Ed Pollock and there's also Will Rhodes, who can bat anywhere in the top seven.
"Competition is going to be strong. Someone's going to have to miss out. And we're going to have to make some difficult decisions."
Ashley Giles was talking to BBC Sport Online's Ged Scott.