Sussex: County report pre-tax profit of £343,000 for year ending October 2017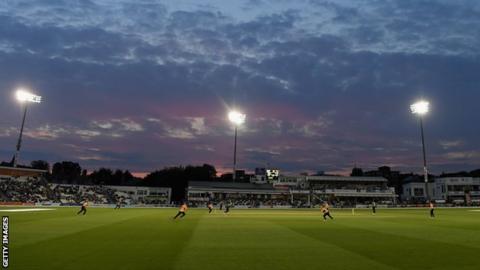 Sussex have reported a pre-tax profit of £343,000 for the year ending October 2017, compared to a profit of just £1,000 for the year before.
The club has put its net worth at £10.16m with no external debt.
It has put the increased profit in the past year down to extra funds received by all counties from the England and Wales Cricket Board (ECB).
On the pitch last season, Sussex were unable to win promotion from Division Two of the County Championship.
Sussex also pointed to a season of increased match day revenue in the T20 Blast and a successful tourist match at Hove against South Africa.
Head coach Mark Davis left the club at the end of a season which also saw former England fly-half and RFU director of professional rugby Rob Andrew join as chief executive.
"We're developing a longer-term operational and financial strategy now we have greater visibility on our finances until 2024," Andrew said.
"We'll continue to develop our own players where we can and feel we have a squad with a good balance of youth and experience.
"During 2018, we will also create a masterplan for the next stage of ground development at Hove. Over the medium term, the club expects to make operating profits having budgeted for a deficit in 2018."
Former Australia fast bowler Jason Gillespie will begin as the county's new head coach before the season having agreed a three-year contract in November.