Nottinghamshire: County announces pre-tax profit of £279,000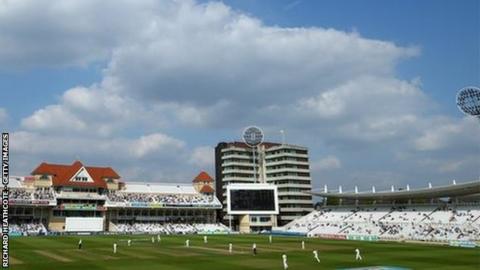 Nottinghamshire have announced a pre-tax profit for the year ending September 2017 of £279,000.
That represents a turnaround of over £1m compared to the £741,000 loss they reported in 2016.
Notts had greater success on the field in 2017, winning both the One-Day Cup and the T20 Blast, as well as winning promotion in the County Championship.
Trent Bridge also hosted a Test match against South Africa in July 2017, having not staged one in 2016.
"The change demonstrates the importance of hosting Test cricket at Trent Bridge," said chairman Richard Tennant.
Notts have missed out on a home Test match over the next two Ashes series in 2019 and 2023.
But, as well as hosting this summer's third Test against India from 18-22 August, they have also been guaranteed four home Test matches from 2020 to 2024.
"We are very pleased with the future programme of matches," added Tennant.
"The award gives us the certainty of supply we need to build our next development and infrastructure plans to further enhance Trent Bridge."
International cricket at Trent Bridge
2020: Pakistan (Test), Ireland (ODI)
2021 India (Test), Pakistan (T20)
2022: New Zealand (Test), India (T20)
2023 ODI and T20 (opposition to be confirmed)
2024: Test and ODI (opposition to be confirmed)