Adil Rashid: England all-rounder to only play white-ball cricket for Yorkshire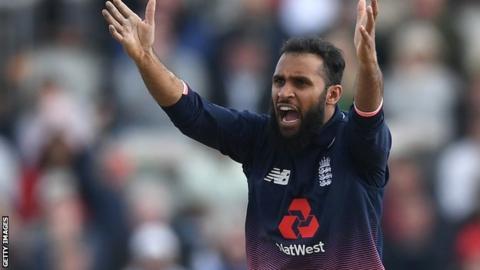 England all-rounder Adil Rashid will only play white-ball cricket for Yorkshire during the 2018 season.
The club are renegotiating the leg-spinner's contract, although the 29-year-old's situation will be reviewed in the autumn.
Rashid, a regular in England's one-day international and T20 sides, made the most recent of his 10 Test appearances against India in December 2016.
"It's for this season coming and to see how it goes," he told the club website.
"At this moment in my career, I just feel that white-ball cricket is where I am best and where I feel I can develop and offer a lot more.
"It's not me saying I'm finished from red ball. It's just this summer I'm going to concentrate on white ball and see where that takes me. England and Trevor Bayliss were happy with the decision I made and are backing me fully."
Rashid, who turns 30 on Saturday, has played 59 one-day internationals and 27 T20s for England and is a member of the squad for the ongoing T20 tri-series against Australia and New Zealand.
Yorkshire are "firmly in favour" of Rashid also playing red-ball cricket, but director of cricket Martyn Moxon said they would respect his decision to focus on the shorter forms of the game.
"He explained he wanted to concentrate on becoming the best white-ball cricketer he could possibly be," said Moxon.
"From my point of view it's disappointing because I think Adil has got the ability to play in all three formats, not only at county level, but also at international level."