Northamptonshire CCC announce £329,000 profit after tax
Last updated on .From the section Cricket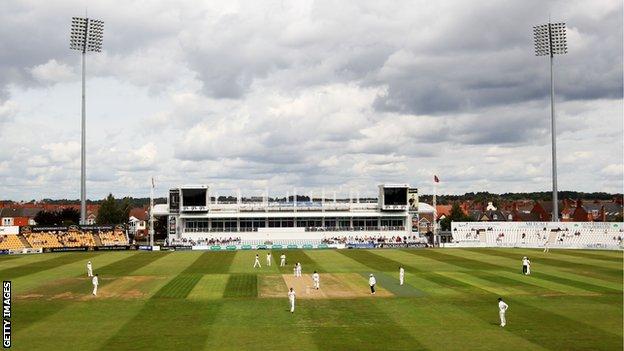 Northamptonshire have announced net profits for the first time since chairman Gavin Warren was appointed four years ago.
The County Championship Division Two side made £329,483 profit for the 12 months ending 30 September 2017, compared to a £182,119 loss for 2016.
Turnover increased by £375,000, though overall gate income fell by 24.3%.
"We are exactly where we forecast we would be at this point in our business plan," Warren told the club website.
"Northamptonshire County Cricket Club is now virtually debt-free generating profit and competing strongly on the pitch.
"I am very proud that the hard work of the past three years is now fulfilling the club's ambition and vision."
During the financial year, Northants changed ownership from a members club to a limited company, NCCC Holdings, and launched a share issue that raised "close to £1.2m".
They repaid a £1m loan to Northamptonshire County Council and last month repaid £500,000 to the England and Wales Cricket Board, with an outstanding £923,000 loan from the county council to be repaid in 2019-20.