ICC investigates 'corrupt' Ajman All Stars event in the United Arab Emirates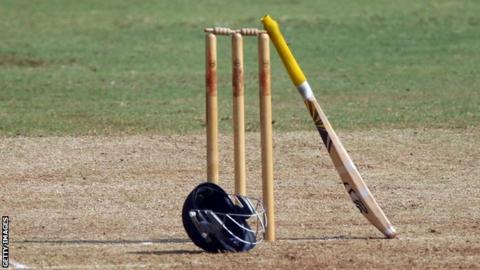 The International Cricket Council says it has evidence a Twenty20 match in the United Arab Emirates was "corrupt" and "damaging" to the sport's reputation.
An investigation is ongoing into the Ajman All Stars League after footage emerged on Tuesday showing some controversial dismissals.
The event is not sanctioned by the Emirates Cricket Board (ECB) or ICC.
The ICC will now ask member boards to consider disciplinary action against players who participated in the event.
Videos appearing to show several wickets falling in bizarre ways, by batsmen running themselves out or getting stumped without trying to return to the crease, went viral after being posted on social media.
Head of the ICC's anti-corruption team, Alex Marshall, said that while the ECB and ICC have no powers to take action under anti-corruption rules because they have not approved the event, the focus of the investigation will now be on "identifying the organisers of the tournament to prevent similar incidents occurring elsewhere and to disrupt corrupt practices wherever we can."
He added that after speaking to some of the people involved in the match "we consider there to be strong evidence to indicate this was a corrupt event and damaging to the wider reputation of cricket and as such will continue the investigation."
The Ajman Cricket Council says it did not approve the match and all matches at the Ajman Oval have now been suspended.