Alex Wharf: Ex-Glamorgan all-rounder to become international umpire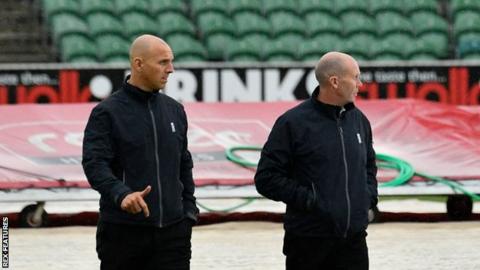 Former Glamorgan and England all-rounder Alex Wharf is to become an international umpire.
Wharf, 42, has been a first-class umpire since 2011, after being forced to retire in 2009.
Wharf has been appointed by the International Cricket Council for 2018.
"I loved the experience of playing international cricket, and I'm delighted to have been appointed to the ICC's International Panel," Wharf told the ECB website.
"As a player, I always loved the game and had the utmost respect for it.
"To have the opportunity to stay involved, to meet thousands of people who also love the game, and to come to grips with a new role where you do have to deal with a range of challenges has been a pleasure and a privilege."
He spent 10 seasons with Glamorgan after spells with Yorkshire and Nottinghamshire, winning 13 one-day caps for England while with the Welsh county.
Wharf, who will continue to umpire county matches, joins Englishmen Rob Bailey, Michael Gough and Tim Robinson on the second tier of officials.
There are also four Englishmen on the Elite Panel in Ian Gould, Richard Illingworth, Richard Kettleborough and Nigel Llong.