Arjun Tendulkar: How Sachin's son is making a name for himself in cricket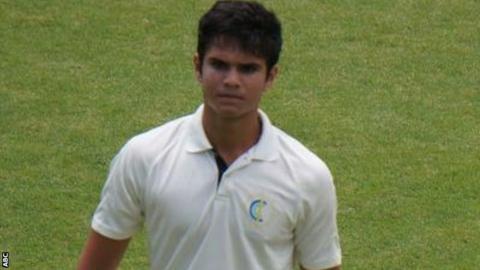 What's the best way for the son of India's most famous batsman to carve a career for himself?
Becoming a bowler is probably a sensible start.
Sachin Tendulkar remains the most revered sportsman in India.
The highest runscorer in both Test matches and one-day internationals, he amassed 34,357 international runs and his every move was scrutinised in adoration by a country where cricket for generations has been regarded as a religion.
For "Son of Sachin" any attempt to follow in his father's footsteps was certain to cause hysteria.
And yet 18-year-old Arjun Tendulkar is taking everything in his elegant, languid stride.
Taller and thinner than his legendary father, when asked about the stresses of continuing the name associated globally with an icon, he says: "I don't take that pressure.
"When I bowl I just think hit the deck hard with every ball and when I bat I just play my shots, and choose which bowlers to take on and which not to."
Tendulkar Jr also tells the BBC's Stumped that the decision to become a bowler was not a carefully considered one in recognition of his father's brilliance as a batsman.
"I just grew taller and got stronger," he explains.
"And I just loved bowling fast in my childhood. So I thought I might as well be a fast bowler because there's not many in India."
A left-arm fast bowler as well. And a left-handed batsman. So instead of making comparisons with his father's exalted textbook cover drive, cricket fans may be detecting shades of Mitchell Johnson and Mitchell Starc, as they are among the players Arjun has modelled himself on.
Tendulkar Jr has been playing in the homeland of those two fearsome Australian left-arm fast bowlers as part of a global Twenty20 series for a Cricket Club of India XI.
And to further perpetuate the stuff of legends scenario, he played at the ground named after Australia's most famous cricketing son, Sir Donald Bradman.
Having taken four wickets in four overs at the Bradman Oval in New South Wales, the young Tendulkar then proved that there were batting genes too as he opened the innings and made 48 from 27 balls.
"I used to play many sports as a kid, football, swimming, running, taekwondo," he reveals. "And then cricket just developed, while everything else took a back seat."
Asked whether his father had been a decisive influence he adds: "He helped me a lot. But he didn't force me into it."
As for the key question, whether he could foresee a career in cricket, the answer is again understated, but with a steeliness shown by his father during his 100 international centuries: "Yes, I'm working very hard to. That's my ultimate dream."