Cricket: Welsh duo Sisodiya and Walker aim to impress at junior World Cup
By Nick Webb
BBC Wales Sport
Last updated on .From the section Cricket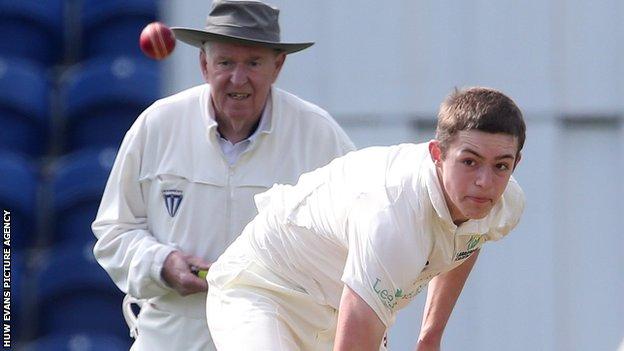 Glamorgan pair Prem Sisodiya and Roman Walker have arrived in New Zealand as they try to make an impression in the England under-19 cricket side in the World Cup.
It is the first time Glamorgan Cricket Club has had two players in the England age-group side in more than a decade.
"It's a different experience with the intensity, it'll be nice to represent Glamorgan and Wales," said Sisodiya.
Both made their debuts in a warm-up tournament in South Africa in December.
Sisodiya, a spinner who plays for Cardiff CC, made a spectacular debut, hitting 63 and taking four wickets in a win over Namibia.
"I wasn't expecting it but it was nice to get a few runs and wickets in the first game, then a couple of wickets against South Africa," he told BBC Sport Wales.
"I just want to contribute to the team in whatever role I'm needed to play, it would be nice to go out and score some runs at the end, take some important wickets and keep the run-rate down."
Sisodiya, 19, has represented Glamorgan second eleven and sees his inclusion as an important part of his development.
"It's another step on the way (to a professional career), I just need to keep going really," he said of his ambitions.
Walker, a 17-year-old opening bowler from Wrexham, has made an unexpectedly early breakthrough to international honours.
"Twelve months ago I wasn't even on the academy with Glamorgan, so it's been such a big 12 months I'm still getting to grips with it," he said.
"Prem played the year above (his age-group) for Cardiff and Vale and I did for North-East Wales, so I've known him for a long time but I knew no-one else (in the England squad)."
England will play Namibia, Bangladesh and Canada in their group in New Zealand, with a strong chance of progressing to the knock-out stages.
"From what I saw in South Africa we've played pretty well so we should go far", said Walker, who played for Oswestry in the Birmingham League in 2017.
"My dad Brian took me to a training session at Bersham aged six, I think I just turned my arm over a few times because it was too dangerous for me to bat and I think that's how I became a bowler.
"I went through the junior systems and then went to Marchwiel, I developed there and now I'm going well at Oswestry.
"When I came onto the (Glamorgan) academy it cleared my eyes to the fact that I could maybe make something out of it."
The last time Glamorgan had two members of the same England under-19 squad was in 2005-06, when Ben Wright and Mike O'Shea toured Bangladesh.
Seamer James Harris, now with Middlesex, and batsman Aneurin Donald have since been England age-group stars.