Catch A Million: New Zealand competition criticised as fans battle to catch sixes
Last updated on .From the section Cricket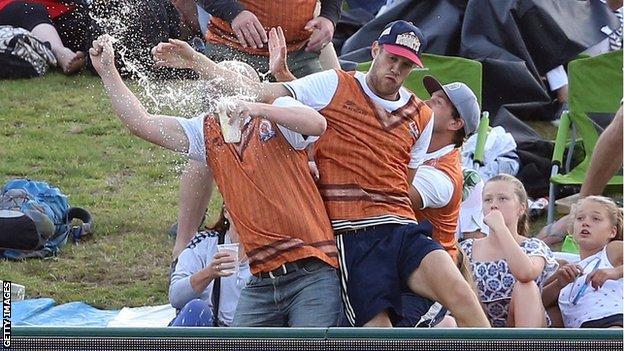 New Zealand Cricket hopes to ease concerns about fans endangering each other as they attempt to catch balls in order to win large sums of money.
The governing body and a brewery sponsor are offering $50,000 (£26,300) to any fan who catches a six one-handed while wearing a promotional T-shirt.
All-rounder Jimmy Neesham said fans were "cannonballing into families with small children" trying to make a catch.
NZC says it is now discussing "potential solutions" with the brewery.
A statement given to BBC Sport read: "NZC and Tui Brewery have met to discuss potential solutions on how to improve the fan participation and ultimately safety during the matches
"We [are] working through the logistics of these, and as soon as there are more details we will share them with you."
Neesham, who has made 68 appearances for New Zealand across all three formats and played for Kent last summer, tweeted his concerns during the Black Caps' Twenty20 international win over West Indies on Wednesday.
The 27-year-old wrote: "Tonight for your viewing pleasure: Grown men in orange T-shirts cannonballing into families with small children.
"Potentially there should be designated areas for the T-shirts. Someone will get badly hurt and it will look like the dumbest thing ever in hindsight."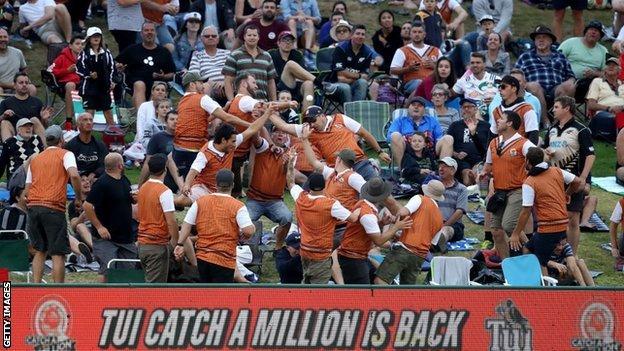 The Catch a Million competition has recently run in South Africa, and has done so twice before in New Zealand - notably during the 2015 World Cup - but has not been in place during the last two seasons.
Fans have to catch a six one-handed while wearing an official orange T-shirt - which sells for for $25 (£13) - during any one of 23 one-day internationals or Twenty20 internationals.
Former New Zealand seamer Kyle Mills joined Neesham in voicing his safety concerns, stating "someone is going to get hit and hurt badly".
Mills told Trackside Radio: "The game of cricket has changed immensely even when I stopped playing four years ago.
"Eden Park Outer Oval, for example, is a really small ground, a small boundary and when you play a game of T20 cricket, the sixes go flying into the crowd like a bullet.
"With the guys with the catching competition, I can see from their point of view. There is 50K up for grabs but somebody is going to get hurt at some stage and to what extent?"
New Zealand Cricket expects to offer an update on the situation before Saturday's one-day international against Pakistan in Wellington.