Ashes 2017: How England can come from 2-0 down to beat Australia
By Stephan Shemilt
BBC Sport in Perth
Last updated on .From the section Cricket241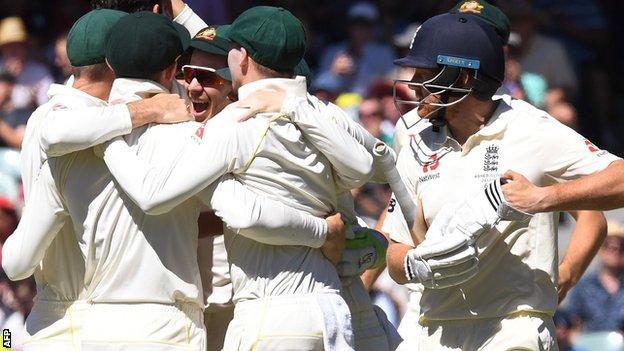 The optimism spectrum surrounding England's Ashes chances has at one end "still in with a chance" and at the other "5-0 again".
At 2-0 down after the 120-run defeat in Adelaide, Joe Root's men have the slimmest chance of a turnaround. To cling on to the urn past Christmas, they must avoid being beaten in Perth, where England have not won since 1978.
The loss at the Adelaide Oval came in two halves - one where England were pretty awful and another where they improved enough to discomfort Australia.
Whether the tourists really do still have a realistic hope of retaining the Ashes, or are now just playing to avoid the humiliation of a third whitewash in 11 years, there are lessons that must be learned.
Keep rattling Steve Smith
Steve Smith's 141 not out was a major difference between the two sides in Australia's 10-wicket win in the first Test in Brisbane.
As England formulated plans, laid traps and set funky fields, captain Smith batted in a bubble for more than eight and a half hours.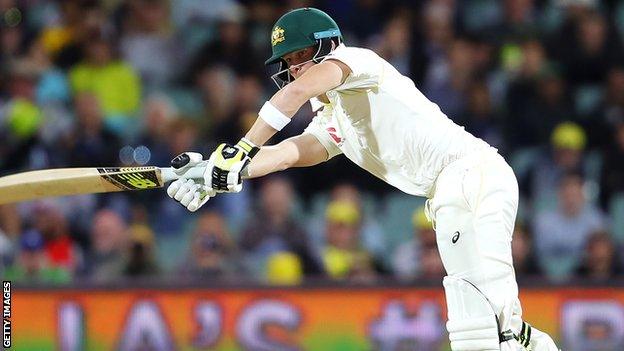 In Adelaide, though, Smith was a different man, rattled by the chat of James Anderson and Stuart Broad in Australia's first innings. At one stage, when Anderson was fielding next to where Smith was standing at the non-striker's end, their conversation left the skipper twitching with irritation.
He was eventually bowled by Craig Overton for 40 and, in the second innings against the moving ball, survived a hair's-breadth lbw shout against Anderson before being pinned by Chris Woakes for only six.
"I think what we did in the first innings did work because we got him out quite cheaply," said Anderson.
"Picking the right time to do something like that, trying to get someone out of their bubble and unsettle them is a good thing. At that point, he seemed more interested in having a chat with me and Stuart than focusing on his job."
Smith's captaincy came under scrutiny too. His decision not to enforce the follow-on came before Australia were dismissed for 138 in the second innings as England hooped the pink ball around under the lights.
When England began their chase of 354, he was visibly frustrated by the stand of 53 between Mark Stoneman and Alastair Cook, and again when Root and Dawid Malan added 78.
Smith burned both of his reviews in the space of three deliveries, dropped a catch, was taunted by the Barmy Army and later admitted to taking a sleeping pill to help him rest on the fourth evening.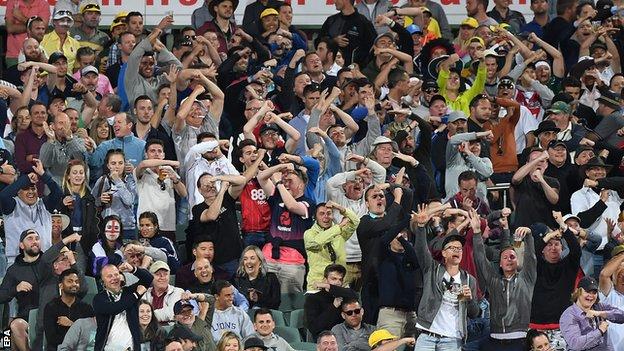 And that's when his team are on top. Imagine what might happen if England do get back into the series.
"I like what England did to Steve Smith, they disturbed him," said former England captain Michael Vaughan.
"The great Steve Waugh used to try and take you out of the here and now by having conversations with you and reminding you of a dismissal from the week before.
"It takes them out of the concentration bubble and that's what England tried to do with Smith. It worked."
The top of off stump
England were playing catch-up from the end of Australia's first innings, when Root asked the home side to bat and saw them pile on 442-8 declared.
The tourists' bowling on the first day in particular was too short and they were shown the way when Australia had the ball in hand.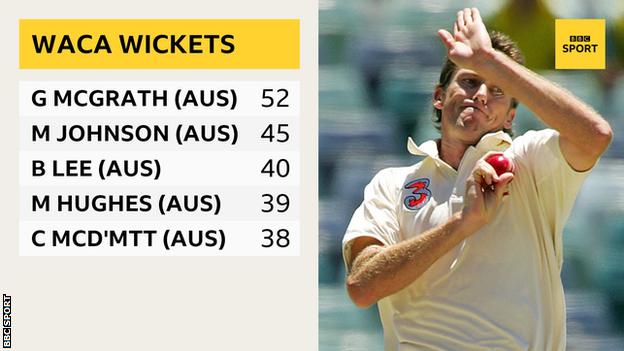 In the second innings, England expertly exploited the assistance that was on offer, but that movement in the air and off the seam might not be seen too much during the rest of the series.
In Perth, much will be made of the Waca's famous pace and bounce, and that Australia's faster bowlers are more suited to bowling there.
Still, no matter the pitch, or the movement of the ball, the top of off stump is always in the same place. Even if England do not have the pace of their Aussie counterparts, there is no excuse for not finding the right line and length on a particular surface.
In Perth, that is likely to mean not getting carried away with the ball whizzing past a batsman's nostrils, but instead pushing it fuller, so it does not bounce over the stumps.
"I'd like to think that you don't have to be 90mph to be successful in these conditions," said Glenn McGrath, who has taken more Test wickets at the Waca than any other Australia fast bowler.
"I didn't get up there too often. England have often bowled the wrong lengths. When they bowled fuller, they looked a lot more dangerous.
"Good bowlers bowl well in conditions that suit them. Great bowlers can adapt and bowl well anywhere."
Dig in
Coach Trevor Bayliss is right to highlight England's batting as his main concern. In four innings, their highest total is 302 and James Vince's 83 the best individual score.
The frustration surrounding the tourists' batsmen comes largely from the way they are getting out, often gifting wickets away with loose strokes rather than being prised from the crease.
The worst top-order display came in the first innings in Adelaide, where England slumped to 142-7 as all of Vince, Root, Moeen Ali and Jonny Bairstow had a hand in their own downfalls.
The batsmen have shown they can make starts - every one of England's top nine at Adelaide has made a score of at least 36 in the series - but the two centuries belong to Smith and team-mate Shaun Marsh, who gave lessons in patience, discipline and self-denial.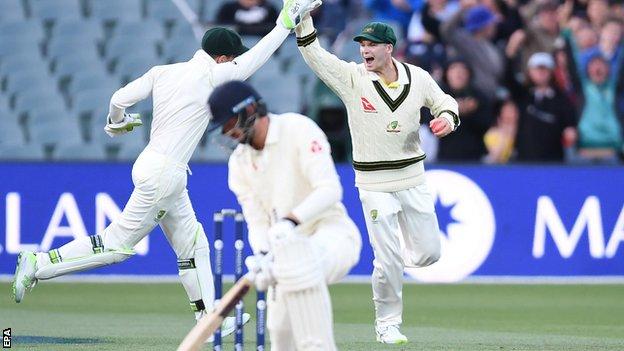 If they are to have a chance of getting anything out of the remaining three Tests, England must convert the 30s and 40s into hundreds and beyond.
"England learned nothing from how Australia batted," said former England batsman Geoffrey Boycott. "It's as if they just go out and bat without thinking of the pitch or the situation.
"They must leave anything they don't have to play and make the bowlers bowl at them."
If centuries are needed to win matches, England have a problem. Of their current top seven, three - Stoneman, Vince and Malan - have never made a Test ton.
In their past 12 Ashes Tests, England have managed only three centuries, two for Root and one for Ben Stokes, who isn't here.
In 2017, England have managed only five hundreds, fewer than all other Test sides apart from Pakistan, Bangladesh and Zimbabwe. Two of those belong to Stokes.
Bayliss, though, says the time that England have spent at the crease during this series demonstrates that their batsmen can make telling contributions.
"We've got blokes that are good enough to make Test hundreds," said the Australian.
"In the case of Stoneman, Vince and Malan, they have all made a fifty, so they just have to do it again. If you score a fifty, you are showing that you can play at this level and handle the pressure. Then it's about going through that ceiling and doing it twice.
"We have to keep giving the guys the opportunity if we believe that they have the ability."
Get more from Moeen, tame the Lyon
For all the talk of the difference between the pace attacks, or Australia's greater ability to grind it out with the bat, the starkest contrast between the two sides has been in the spin-bowling department.
England off-spinner Moeen has managed only two wickets at a cost of 98 each, whereas Australia counterpart Nathan Lyon has 11 at 22.72 - four of which include dismissing Moeen in each innings.
Lyon is not only providing a wicket-taking threat, he has the best economy rate of Australia's bowlers, holding up one end while the three quicks are rotated at the other. He is causing particular trouble for the left-handers, of which England have six.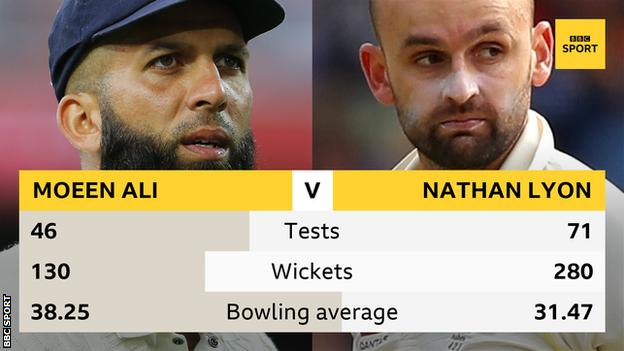 "Lyon has performed very well," said Root. "We have to make good plans in practice to make sure we can counter him in the Tests.
"It's about individuals being clear about how they will go about playing him. If we do that, we'll be in a good place."
Moeen's preparations were hit when he missed England's first two warm-up games with a side problem and he was hampered in the Tests by a cut on his spinning finger.
He will captain England in their tour game against a Cricket Australia XI in Perth at the weekend, the only player from the XI that played in Adelaide to turn out at Richardson Park, and presumably plenty of overs will be on the agenda.
"Lyon's trajectory is different to Moeen's," said former England spinner Phil Tufnell. "Lyon is getting the ball up and down, getting top-spin and side-spin. Moeen is a little bit flatter, bowling it into the pitch, not giving himself the chance to get turn and bounce.
"Moeen needs to get into the game. If you look at Australia's bowling unit, everyone is chipping in, but England's seamers need some help from their spinner."
How is the Ashes affecting your life?
How have you been following the Ashes from afar, and how has it affected your normal sleeping patterns?
Have you been able to stay up all night and follow the action? Or have you been listening to TMS under the duvet? Perhaps you have been waking more than usual to check updates on the BBC Sport app?
Do you go into work bleary-eyed each morning? How do you juggle day-to-day life with the desire to follow cricket in a distant land?
We're keen to hear about your tales of cricket-induced sleep deprivation/batting collapse nightmares. Contact us via this form, and leave your details if you are happy for a journalist from BBC Sport to phone or email you.