Ashes: England must bat long to keep their hopes alive

By Jonathan Agnew
BBC cricket correspondent
Last updated on .From the section Cricket
We are only seven days into this Ashes series, but we are at the stage where England must deliver if they want to stay in with a chance of retaining the urn.
A defeat in Adelaide would leave them 2-0 down with a trip to Perth to come. England have not won at the Waca since 1978.
Joe Root's men will know it is absolutely critical they get as close to Australia's 442-8 declared as they possibly can.
It will be very hard, but they can do it.
It doesn't matter how long it takes - and there must be no repeat of the self-induced dismissals of the 10-wicket defeat in Brisbane.
England have to be prised out and, in that sense, the tourists can follow Australia's lead.
The home side clearly have a plan. They see off James Anderson and Stuart Broad, then happily take on what comes next.
England have got to play the Australia fast bowlers in such a way that puts pressure on skipper Steve Smith to search for new options and different plans.
It has to be a team effort, all the way down to the tailenders, who must get stuck in to eke out whatever runs they can.
Naturally, you look to the likes of Alastair Cook and Root to lead the way and, hopefully without putting the mockers on him, Cook played nicely on the second evening.
He was moving his feet and getting a big stride into the ball, which is always a sure sign that he feels in good touch. There wasn't the crabbing around the crease that we see when he isn't at his best.
Australia's declaration gave England 28 overs to survive against the heat of Mitchell Starc and co, with Mark Stoneman falling to a laser-guided yorker.
Not long after, the rain intervened, lopping almost 19 overs off the day. You could say England, 29-1 at the time, were fortunate.
However, after what happened earlier in the day, they were probably due some luck.
No matter how this game turns out, one of things it will be remembered for is Root sending Australia in.
It's hard to evaluate that decision, because England did not bowl well with the new ball.
What we can say with certainty is they improved on the second day and did not have the rub of the green.
Anderson had two perfectly reasonable lbw decisions overturned and there were lots of times England went past the edge.
Still, it is becoming apparent Australia may just have that bit too much power in crucial departments.
They have the pace you need in these conditions and more depth. The selections that caused consternation - Shaun Marsh and Tim Paine - have put big ticks next to their names.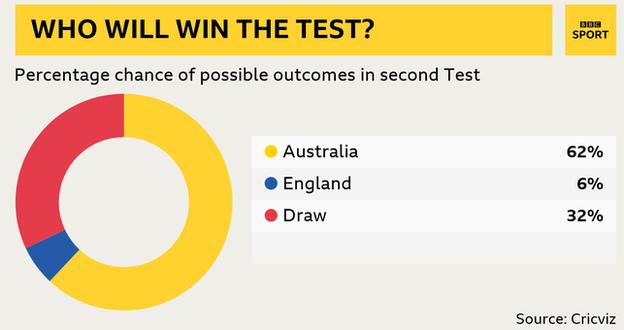 Is there anything England can do? There is talk of Mark Wood being fit for the third Test, bringing some much-needed hostility to the attack. The omission of Liam Plunkett, despite his lack of first-class cricket, certainly looks a mistake.
That, though, is for another time.
The immediate concern is Monday and how England bat.
Yes, it will be difficult, not only because there will be a second new ball due late in the day under the lights, but also because the turn found by Moeen Ali suggests Nathan Lyon will be a handful.
England's aim has to be to bat long enough so they pressure Australia's second innings.
We have seen time and time again that teams can get themselves into trouble in the third innings of a match. England famously did just that on this ground 11 years ago, somehow managing to lose after making in excess of 500 in the first innings.
Maybe England will have a few more showers to help them along the way, but the forecast is improving. They must be determined, clear in their minds what they are going to do.
If it does not go well for Root's men, it's hard to understate the difficulty of staying in the series. It's unrealistic to expect them to avoid defeat in the remaining three matches, especially when England's record is so poor in Perth.
But if they leave Adelaide with something, there is still a chance of taking the urn home.
Jonathan Agnew was speaking to BBC Sport's Stephan Shemilt.