Ashes: England coach Trevor Bayliss wants stump microphones turned down
Last updated on .From the section Cricket75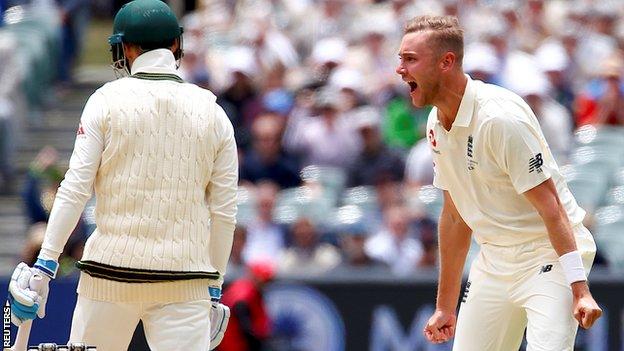 Stump microphones should be turned down so television viewers cannot hear the sledging which occurs on the field, says England head coach Trevor Bayliss.
Bayliss said he did not think it was "a great thing for young kids watching at home" to hear the sledging.
"It adds to the spectacle when you're playing but I don't think anybody has to listen to everything," he added.
"I'd like to see the stump microphones turned down.
"It's grown men playing a very competitive sport and sometimes those emotions boil over."
Both teams have tried to undermine their opponents on the field in a fractious contest, with England noticeably keen to engage Australia captain Steve Smith in some heated exchanges when he batted on day one in Adelaide.
A similar pattern continued on day two when Stuart Broad roared in the direction of Peter Handscomb after trapping the batsman lbw for 36.
Bayliss, however, believes such incidents are often blown out of proportion.
"Sometimes more is made of it in the press than what happens on the field," the Australian said. "After the series, the boys sit together and have a beer. It's the way things are and how the game is played."
If you are viewing this page on the BBC News app please click here to vote.
Why aren't England producing fast bowlers?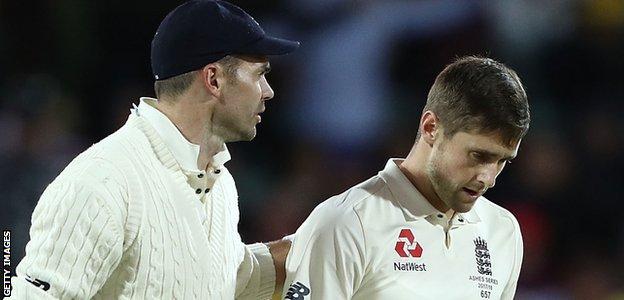 England's bowlers once more struggled for penetration on day two, with Shaun Marsh making an unbeaten 126 alongside handy contributions from Tim Paine (57) and Pat Cummins (44).
The tourists' attack has struggled to maintain speeds in excess of 85mph in a series where their Australian counterparts - Mitchell Starc and Cummins in particular - have been clocking above 90mph.
When asked why England are not producing out-and-out fast bowlers, Bayliss said: "The wickets in England aren't conducive to fast bowlers.
"The faster bowlers don't get as much out of the pitches as they can in this part of the world. Maybe that's disheartening for them, I don't know.
"The amount of cricket which is played is also an issue.
"I'm not exactly sure of the reasons but it's well documented they have three guys who are quicker than ours.
"But it doesn't make them impossible to play. It doesn't matter how quick you are, you still have to be able to move the ball. If you bowl straight at this level, it doesn't matter how quick you are, batsmen can take advantage of it.
"We have got the bowlers we've got. There's no point hoping or wishing for somebody else to come along with a click of the fingers. We have to make the best we can out of it."