Ashes: Jonny Bairstow says 'headbutt' on Cameron Bancroft blown out of proportion
Last updated on .From the section Cricket
England wicketkeeper Jonny Bairstow says his alleged headbutt on Australia batsman Cameron Bancroft has been "completely blown out of proportion".
The incident, which took place on a night out in Perth in October, came to light during the hosts' 10-wicket win in the first Test in Brisbane.
Bairstow and Bancroft said there was "no malice" in the action.
England coach Trevor Bayliss said his players have "got to be smarter" away from the pitch.
Bairstow will not be disciplined over the incident, but England's players have effectively been grounded, said BBC cricket correspondent Jonathan Agnew.
Bayliss added: "Most people like having a couple of quiet ones, but we've got to be careful we don't do anything stupid."
The Australian said it was "disappointing" that the incident had given the Australia players an opportunity to "get under Jonny's skin" during the Test.
England are without all-rounder Ben Stokes, who is awaiting the outcome of a police investigation into his involvement in a fight outside a Bristol nightclub on 25 September.
Bairstow was one of three other players fined by the England and Wales Cricket Board and accepted formal written warnings for "unprofessional conduct" - on the same Bristol night out, although unrelated to the Stokes investigation.
On the eve of the Ashes, Bayliss said the players had "come up" with their own "sensible rulings" around drinking on the tour, including "no set curfews" and no drinking between matches.
Following the first Test defeat, Bayliss was again asked about player behaviour.
"The disappointing thing is we make dumb decisions at different times. We've just got to be smarter and if that means not drinking then so be it."
He said he thought players would make sure they behaved following the Stokes incident and added they would be "extra dumb" if they did not now.
What did Bairstow say?
Bairstow addressed reporters without taking questions before Bayliss, England captain Joe Root, Australia counterpart Steve Smith and Bancroft spoke to the media.
Bairstow, 28, said: "I caught up with one of my friends and we went and caught up with some of the Western Australia guys after they'd just beaten Tasmania. We were in the bar having a good laugh and a good evening out. Cameron and I enjoyed the evening and continued to do so.
"There was no intent nor malice about anything during the evening.
"As you could see out there today, there's no animosity between myself, Cameron and any other of the Australian players.
"Hopefully now we can swipe this underneath the table, continue what's going to be a fantastic and exciting series and we move on from there."
Was the incident mentioned during the game?
Australia opener David Warner made reference to the incident in the middle during England's second innings on day four, when his comments were picked up by the stump microphone. He reportedly said "you shouldn't headbutt our mates".
"Any team will take any opportunity to get stuck into the opposition and make them feel uncomfortable," said Bayliss.
"If you put yourself in that situation, you're fair game and we've got to be very careful we don't do that again in the future."
Australia captain Steve Smith said his side were trying to put Bairstow "off his game" and claimed "it worked" because he was caught at third man for 42 shortly after.
'It was a headbutt kind of thing but without malice'
In a jovial news conference, with Smith laughing beside him, opening batsman Bancroft said Bairstow greeted him "with a headbutt kind of thing" after he had arrived at the bar following a win for his state side Western Australia.
Reporter: "I'll just cut straight to it. Talk us through the incident."
Bancroft: "I remember it very clearly.
"It was a very friendly mingling the whole night - obviously some of our players knew some of the English players. As the night progressed it was great to be able to meet some of those guys.
"I got into a very amicable conversation with Jonny and yeah he just like, just greeted me with a headbutt kind of thing.
"I was expecting a handshake. It wasn't the greeting of choice that I was expecting and that was the way I took it. There was certainly no malice in his action and we continued on having very good conversation for the rest of the evening."
Reporter: "Did he apologise?"
Bancroft: "Yeah, at the time he said sorry. For me, personally, it was just really weird. It was so random. I certainly didn't expect it coming. A handshake or a hug would have been something I would have probably expected more than a headbutt.
"There was certainly nothing malicious about his action. I just took it as... I don't know Jonny Bairstow, but he says hello to people very differently to most others.
"We got along for the rest of the night quite well. I let it go and moved on from it. It was fine."
Reporter: "This sounds quite ridiculous, but did he headbutt you like that [demonstrates action off camera] straight forward? We can't actually work out what happened? Did he knock you over?"
Bancroft: "Just whatever your imagination pictures it as, is probably what it would be.
"He didn't knock me over. I've actually got the heaviest head in the Western Australia squad. It's been measured. I took the blow quite well and moved on from it.
"It was a good hit. Play on."
Reporter: "Trevor Bayliss said it was a 'long way from being a headbutt'. Can you define on a 1-10 basis the difference between what happened to you and a headbutt?"
Bancroft: "He connected with my head with a force which would make me think, 'wow that's a bit weird' - and that's about it.
"Headbutts clash with heads. When he made the decision to do that it meant our heads collided."
Analysis
BBC Sport's Stephan Shemilt in Brisbane
As news conferences go, this was utterly bizarre.
After Jonny Bairstow addressed reporters without taking questions, it was Trevor Bayliss and Joe Root, both clearly frustrated that this had happened so soon after the Ben Stokes incident.
Contrast that with the mood of Cameron Bancroft and Steve Smith, with the Australia captain in hysterics as Bancroft gave his side of the story.
Australia winning the first Test by 10 wickets barely got a mention. The hosts are 1-0 up on the field and further ahead off it.
Timeline
28 Oct - Joe Root tells a pre-Ashes news conference that England do not have a drinking culture.
29 Oct - England land in Perth, Australia. Players go to a local pub in the evening.
29 Oct - Bancroft and team-mates celebrate win for Western Australia v Tasmania in a domestic game. End up in same pub as England players. Bairstow greets Bancroft with a 'headbutt'.
1 Nov - Bayliss (unaware of incident) tells BBC's Test Match Special that England players have come up with their own "sensible" rules around drinking, but there will not be a curfew in place on tour.
21 Nov - Australia spinner Nathan Lyon says his side will "headbutt the line, but we won't go over it" when asked about sledging on the eve of the first Test.
26 Nov - Bairstow is sledged during fourth day of the first Test. ECB says it will investigate reports of headbutt.
27 Nov - Bairstow, Bancroft and Bayliss address the media, all playing down the incident.
'We didn't capitalise'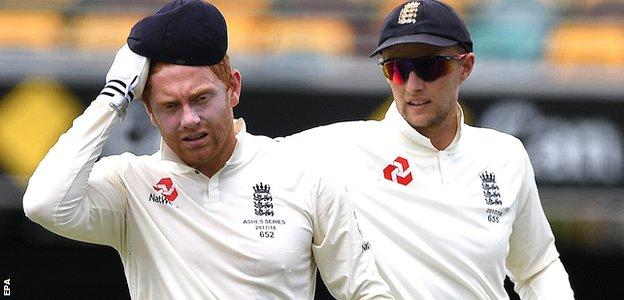 When asked about the match itself, England captain Joe Root said his side "didn't quite capitalise" on the "good positions" they put themselves in during the first three days.
England were 246-4 in their first innings, but collapsed to 302 all out, with Australia later recovering from 209-7 to post a crucial first-innings lead of 26.
"When you get to near 250-4, you want to make scores of over 400. That was the difference between their innings and ours - Steve Smith went on and made big hundred," said Root.
"Having them seven down, you'd like to think you could close that out quicker, get a 60-80 run lead and it's a very different game."
Smith ended unbeaten on 141 in Australia's first innings, with England looking short of ideas on how to get him out, despite Root and the bowlers employing a number of different plans and field settings.
"It didn't work on this occasion." said Root. "That is the art of batting - ride the difficult periods.
"He worked extremely hard for his runs and played exceptionally well - on another day a play-and-miss would create a chance."