Ashes: England or Australia - who will win? Pundits make their predictions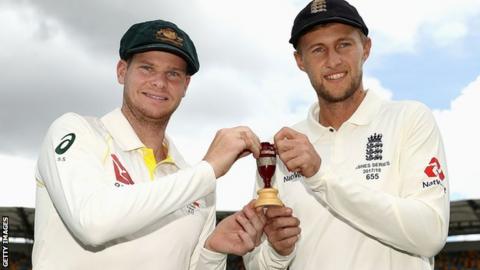 Australia v England, first Ashes Test
Date: 23-27 November Time: 00:00 GMT Venue: Gabba, Brisbane
Coverage: Ball-by-ball Test Match Special commentary on BBC Radio 5 live sports extra, Radio 4 LW and the BBC Sport website. Live text commentary on the BBC Sport website and app. Full coverage
The Ashes get under way in Brisbane on Thursday, with England looking to defend the urn they won on home soil in 2015.
Australia, who whitewashed the tourists 5-0 when England last toured down under in 2013-14, are clear favourites to win, but England have triumphed in four of the past five series.
Test Match Special commentators, cricket journalists and pundits give their views on what will happen this time around.
Jonathan Agnew, BBC cricket correspondent
Australia have been invincible against England in Brisbane and Perth for the best part of 30 years, but I've got high hopes for the tourists in Adelaide. The day-night format and the pink ball could make James Anderson and Stuart Broad more effective than they would be if it was a normal game. I can't see many draws and, though I'm saying Australia will win by two matches, I wouldn't be surprised if England come through better than that.
Prediction: Australia 3-1 England
Michael Vaughan, captained England to Ashes victory in 2005
We'll have a much better idea of the direction of this series after the first Test. If England get blown away in Brisbane, it could be deja vu from their last tour. However, I've got a sneaking suspicion that the weather may help them at the Gabba and I feel they will win a Test on the tour, either in Adelaide or Melbourne. They won't win in Perth or Sydney, so at the moment I can't see them winning the series.
Prediction: Australia 3-1 England
Graeme Swann, Ashes winner in 2009, 2010-11 and 2013
I don't think this Australia team are as good as they are trying to make themselves out to be, and England are stronger than we have been led to believe. I don't know where, why, or when, but I do think England will win the series.
Prediction: Australia 1-2 England
Matt Prior, Ashes winner in 2009, 2010-11 and 2013
The focus has been so much on England. Australia look like they have made some selections that have been picked out of a hat. Both teams have superstar quality, but they have got young players. As the build-up has gone on, I have felt more and more confident. You always play better as an underdog. England are going to do something special.
Prediction: Australia 1-3 England
Jim Maxwell, ABC commentator
England have to find a way to resist Australia in the first Test. If they can get out of it with even a draw, they are in the fight for longer and they can get to Adelaide's well-grassed pitch. Still, their batting is so light that the Australia pace attack will make a mess of them. That doesn't mean that Australia's batting is without problems, but I think the home side are more likely to get wickets, faster.
Prediction: Australia 4-1 England
Phil Tufnell, played in five Ashes series
These are two batting line-ups that do not look to be very strong, up against two good bowling line-ups. Therefore, even though there might be bad weather around in Brisbane, I can't see many draws. It's always difficult to beat Australia in their own back yard, but England can retain the Ashes.
Prediction: Australia 2-2 England
Vic Marks, former England spinner
England very rarely win series in Australia. I can see them getting one in Adelaide if they get the opportunity to bowl at the right time, and somewhere it will rain to give us a draw. It could be set up for a thriller in Sydney, with Australia 2-1 up, and England not quite pulling it off.
Prediction: Australia 3-1 England
Dan Norcross, Test Match Special commentator
I'm not optimistic. England struggle and when Australia get ahead they can make things pretty horrible for a touring sides. However, Australia's back-up bowling is pretty weak, so it could go one of two ways. Any sort of injury to the Australia bowling attack could lead to England being competitive in a tight series. If they stay fit, Australia will win big.
Prediction: Australia 4-0 England
Isa Guha, Women's Ashes winner
It's hard to make a prediction because so much depends on the outcome of the first Test. Australia have a very good bowling attack who know exactly what to do in these conditions. However, like England, their batting line-up is very unpredictable. I like that Mark Stoneman has made runs for England and they have a strong middle order - Jonny Bairstow and Moeen Ali will step up in the absence of Ben Stokes.
Prediction: Australia 2-2 England
Lawrence Booth, Wisden editor & Daily Mail cricket writer
Australia's bowling attack is better suited to these conditions. In Mitchell Starc they have the best left-arm swing bowler in the world, Josh Hazlewood is the most accurate in the world and Pat Cummins is the fastest. Steve Smith and David Warner will score enough runs to make up for deficiencies elsewhere. England's top five is weak and over-reliant on Joe Root. They have a stronger middle order, but that is the only area where they have the edge.
Prediction: Australia 3-1 England
Alison Mitchell, Test Match Special commentator
The sides are closely matched, especially when you compare the less experienced members of their batting line-ups. Australia have a very strong bowling attack, so England have to get through the new ball and make Mitchell Starc and Pat Cummins come back to bowl third and fourth spells. The rain that is around in Brisbane might help England get a draw and set them on the way to retaining the Ashes.
Prediction: Australia 2-2 England
Simon Mann, Test Match Special commentator
If Australia keep their main bowlers fit, I fear for England because their batting is fallible. The Tests themselves will be quite close but, without Ben Stokes, I'm not sure England will be able to cope with Australia's pace attack and the spin of Nathan Lyon, who is underrated. England can come back into it if the Australia bowlers do not stay fit.
Prediction: Australia 4-0 England