Malahide to host Ireland's first Test match when they play Pakistan in May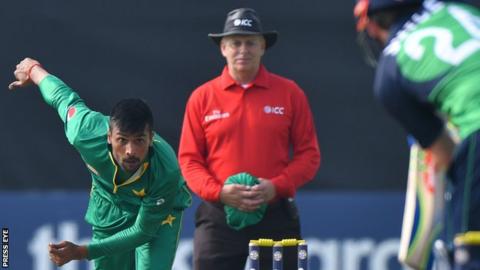 Malahide will be the venue for Ireland's first men's Test match when they face Pakistan next May.
Ireland and Afghanistan were given Test status in June when they became the 11th and 12th full members of the ICC.
Pakistan were confirmed as Ireland's first Test opponents last month for a match which will start on 11 May.
"We are delighted that Malahide has agreed to host this historic game against Pakistan," said Cricket Ireland CEO Warren Deutrom.
"Even in its short history of hosting our matches, the club has already given us some wonderful memories and we trust that 11 May and its ensuing days will provide many more.
"We would like to thank the club's members for their continuing hospitality."
Ireland's first Test - or is it?
Ireland's women have played one Test - also against Pakistan - in Dublin in July 2000, when the Irish won by an innings and 54 runs.
Malahide chairman Ciaran Keohane said that the north Dublin club are "looking forward" to welcoming both teams.
"This is a great showcase not only for Irish cricket, but for Malahide and the wider Fingal area," said Mr Keohane
Pakistan were top of the Test match rankings as recently as last year before slipping back after the retirement of captain Misbah-ul-Haq and senior batsman Younis Khan.
They are currently third in the Test match rankings.