World Cricket League Division Four: Jersey to travel to Malaysia for tournament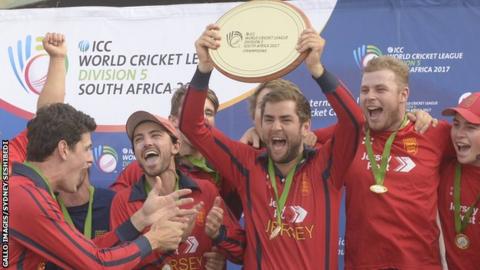 Jersey will travel to Malaysia for the World Cricket League Division Four tournament in 2018.
It will be the third time Jersey has played in Malaysia, having won the Division Five tournament there in 2014 and also played in the 2011 Division Six tournament.
As well as the hosts, Jersey will face Uganda, Bermuda, Denmark and Vanuatu.
The island have been relegated in their previous three Division Four tournament appearances.
Jersey qualified after becoming World Cricket League Division Five champions for the third time in South Africa in September.
"We're not going into an unknown quantity," Jersey Cricket Board chief executive Chris Minty told BBC Sport.
"We know the grounds, we've played there before and a lot of our team will have played there before.
"Ours is a good young, but experienced team now, and we're in a good position to do well at this tournament."