New South Wales v Queensland : Burnt toast stops play in Sheffield Shield match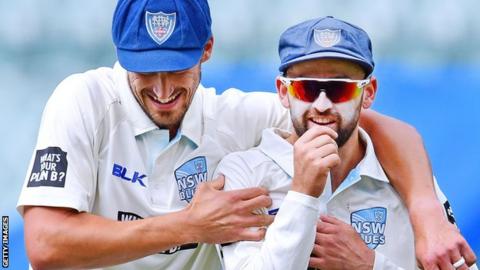 Rain, snow, pigs - cricket matches have been halted for odd things before. Now burnt toast can be added to that list.
A week before the Ashes starts, Australia Test spinner Nathan Lyon caused play to be halted for 30 minutes in a Sheffield Shield match after his attempt at making a snack went wrong.
New South Wales were batting and were within sight of a three-day victory when a fire alarm went off.
The Stuart Law grandstand, where the press, scorers and players were watching on, was evacuated, while the confused players on the field were led off.
The fire brigade arrived at the ground in Brisbane and eventually gave the ground the all-clear after, allowing New South Wales to wrap up a six-wicket victory.
"[The toast] popped up first and I wasn't happy so I put it back down and I got carried away watching the cricket," Lyon, who is Australia's first choice Test spinner, said after the match.
"It happens every second week [at home], I reckon. I was getting a bit bored in the change rooms.
"[Australia Test captain] Steven Smith already said he's going to cover the fire truck call-out fee."
A car stopped play in India last week after a man drove onto the pitch in Delhi.