Chris Adams: Former Sussex skipper would 'find it hard' to reject role at club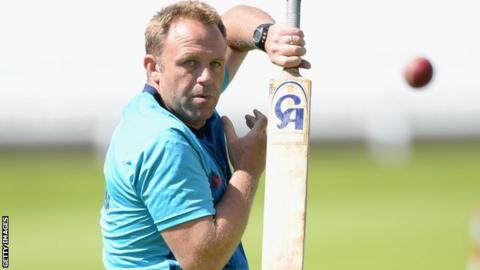 Former Sussex captain Chris Adams would "find it very hard" to turn down a role at the club if he was offered one.
The Hove-based side are looking for a new head coach after parting company with Mark Davis on Wednesday.
Adams, 47, won the County Championship three times during 11 years as a player with the county.
"My heart and my passion is there but I don't make those decisions. If there was a position of some form it would be hard to say no," Adams told BBC Sussex.
Adams spent four and a half years coaching Surrey after retiring in 2008 and has also had time on the coaching staff of Sri Lanka and the Netherlands since leaving The Oval in June 2013.
He won promotion to Division One of the County Championship and the CB40 title during his time in south London.
Sussex chief executive Rob Andrew said the coach who replaces Davis, who played alongside Adams at Sussex and led the club to two fourth-placed finishes in Division Two, will have "the raw materials with which to build a trophy-winning side".
"Rob will have spent time assessing the club," added Adams. "One person alone does not make a successful club - it is [about] getting the right people in the right positions and doing the right things.
"When you get that collective together then there is a very good chance all your dreams and ambitions may follow.
"My fondest memories in the game were in the 11 years at Sussex. Until such time as I am given an opportunity to look at a role or accept something then I remain a supporter of a fabulous club."
Meanwhile, Sussex batsman Phil Salt has agreed a new contract which will keep him at Hove until the end of the 2019 campaign.
Analysis
BBC Sussex commentator Adrian Harms
Former Championship-winning skipper Adams will be top of many Sussex supporters' list for a successor to Mark Davis.
But, having recruited from within in the past, Rob Andrew may decide the time is right to break with tradition and look for an outside appointment.
Whether an undoubtedly talented but inexperienced group of young players have sufficient experience to mount a challenge for trophies next season remains to be seen.