Ben Stokes: England can win Ashes without all-rounder, says Moeen Ali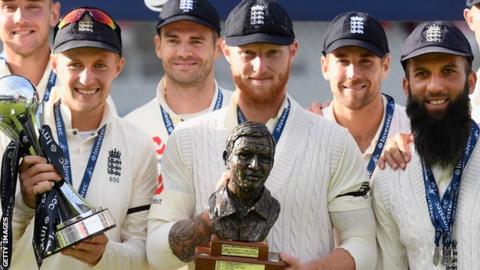 England can still win the Ashes even if Ben Stokes does not go to Australia, says fellow all-rounder Moeen Ali.
Stokes, 26, was arrested on suspicion of causing actual bodily harm and video footage emerged that allegedly showed him in a brawl on Monday.
The England and Wales Cricket Board said Stokes would not be considered for selection until further notice.
Asked if England can win without him, Moeen said: "Yes, otherwise I feel there's no point in going out there."
He added: "If he's not there, then we're going to have to play well without him [but] I definitely feel we can still win."
Test vice-captain Stokes has been released by police but remains under investigation after an incident near the Mbargo nightclub in Bristol at about 02:35 BST.
Despite his arrest, he was named on Wednesday in England's Ashes squad where the first Test starts in Brisbane on 23 November.
On Thursday, the ECB announced that Stokes and Alex Hales - who was with him when the incident happened - would not be considered for selection until further notice. Hales was not named in the Ashes squad.
This came after the governing body saw footage published by The Sun newspaper which allegedly shows Stokes throwing punches at two men.
Moeen, who was man of the series in England's 3-1 Test series victory over South Africa in the summer, added of Stokes: "I think we all know how good a cricketer he is, and what he can bring to the table.
"He's one of the main players we have, and it would be great to have him out there ... but we'll see what happens."