County Championship: Relegated Middlesex talk to ECB over points penalty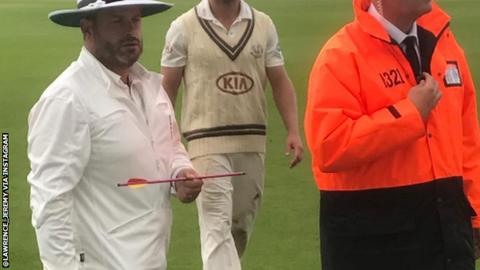 Middlesex are to speak to the England and Wales Cricket Board over the two-point deduction for a slow over-rate which effectively saw them relegated.
The punishment came after last month's Division One match at Surrey was halted when a crossbow bolt was fired into The Oval.
"We're raising the matter with the ECB," the club's director of cricket Angus Fraser told BBC London 94.9.
BBC Sport has approached the ECB for a response.
Fraser claimed Middlesex were told, as the incident was unfolding, that they would not be penalised, despite being below the over-rate when play was abandoned in the last session of the final day.
"All of a sudden there's police running around the dressing rooms and you think there's more important things to do than hassling the umpires and you respect their position," he said.
"But all the information we had when we left the ground was that we were not going to lose the points. To suddenly find out that we do further down the line is pretty gut-wrenching."
Immediately after the deduction was announced on 9 September, Middlesex chief executive Richard Goatley said they had discussed with the ECB the unique circumstances surrounding the abandonment.
But he added: "We have been advised that since the ECB has chosen to follow the published playing conditions in this instance, there is no scope for any further appeal."
A 35-year-old man was arrested following the incident but released on police bail pending further inquiries.