Brett Hutton: Seam bowler leaves Nottinghamshire to join Northants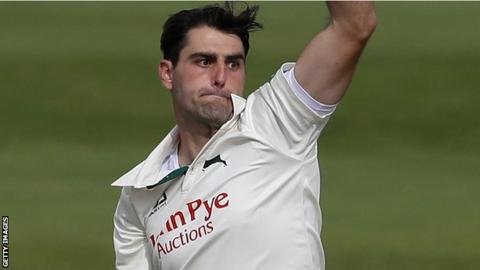 Seam bowler Brett Hutton is to leave promoted Nottinghamshire and join Northants on a three-year contract.
The 24-year-old took 37 wickets as Notts finished second in Division Two of the County Championship, including 11 in two games against Northants.
Hutton will fill the gap at Wantage Road caused by Mohammad Azharullah's decision to leave the club.
"He will bring quality and competition to what is already a fine group of seam bowlers," said head coach David Ripley.
Hutton, who only appeared in four-day cricket this summer, turned down a new deal offered by Notts.
"We are disappointed to see a talented player who has come through our academy ranks, and who we hold in high regard, leaving us, especially after he finished the season so strongly," said director of cricket Mick Newell.
"He informed us of his decision to explore his options in May, expressing his desire to leave because he wants to be a regular in all forms of cricket, something we haven't been able to guarantee in the process of winning two white-ball trophies this summer."