'Ben Stokes incident shows that freedom comes with a price'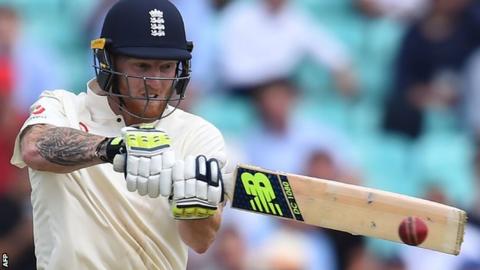 It is nothing new for the management of an international cricket team to wrestle with the amount of freedom afforded to players.
It is not difficult to come up with a long list of cricketers who like to have a good time - from the village green to the Test arena, it is a sociable sport.
Not only that, but players spend week after week in hotel rooms.
This winter, for example, an England player involved in every game across the three formats will depart on 28 October and get home on 5 April.
That means a lot of rest days and hours of free time to fill. They cannot be locked away. They have to be human beings as well as professional sportsmen.
England's current policy is to treat the players like adults, because that is how they want them to behave when they are on the field.
In my view, it is the right approach. In the past, there has been a correlation between an overpowering management regime and the way that decisions have been made in the middle.
By empowering players - not just players, but grown men - to think for themselves outside of the game, you hope that they will be more likely to adapt to a situation and seize the moment in a sporting contest. You do not want cricketers who are cowed by adversity, waiting for someone to tell them what to do.
That is not to say that the players or the management do not know the risks of this freedom.
Sometimes on tour, perhaps in the smaller towns, you will see England head of security Reg Dickason quietly patrolling the streets, making a note of where everyone is, ensuring that there is nothing brewing.
Once, after they won in New Zealand, I suggested to former England all-rounder Paul Collingwood that the team would be off out celebrating. "We can't do that," he said. "We're only one click away from being on YouTube."
Which brings me to Ben Stokes, and the incident that took place in Bristol in the early hours of Monday morning that resulted in the all-rounder being arrested and both he and Alex Hales left out of the England team until further notice.
I have heard it said that there is a drinking culture within the England team. That is not something I have witnessed, but I do not always stay in the same hotels, or go to the same bars and restaurants.
They are certainly not teetotal, but very few England cricketers have been - Moeen Ali, for example, is an exception. At all levels of the game, it is usual for players to unwind with a drink after seven hours on the field.
I have had dinner with the likes of Stuart Broad and Alastair Cook during Test matches and they might have a single glass of wine, no more. I can't say that I have witnessed England players regularly getting slaughtered on booze.
Stokes' past indiscretions are well known - being sent home from a Lions tour for disciplinary reasons, breaking his hand by punching a locker in the Caribbean - but there are plenty of cricketers from all over the world that have moved on from misdemeanours in their youth to have great careers.
I have interviewed Stokes many times. I have always found him to be genial, respectful and engaging. He has never come across as bored or unwilling with his time. I have enjoyed speaking to him.
It is easy to imagine the conversation held by senior management of the England team when they were considering Stokes for the vice-captaincy of the Test side.
They perhaps saw it as a way to get him really focused, to buy into taking more responsibility, as a win-win situation that would help both Stokes and the team.
He forms a nice contrast with the laid-back figure of captain Joe Root. Stokes is a leader on the field, a match-winner who takes games by the scruff of the neck. He is admired by his team-mates and they are willing to follow his lead. He has earned a bumper Indian Premier League contract. His career was soaring and, already a father of two, he is soon to be married.
You can see why England were willing to give him a position of authority.
With that, though, comes great responsibility and those who have staked their reputations and that of the English game on Stokes have every right to feel concerned.
Now that England have acted swiftly to remove Stokes and Hales from international cricket for the immediate future, it seems very difficult to imagine Stokes being part of the upcoming Ashes tour, for two reasons.
Firstly, England say they won't pick him, but there were only two one-dayers left in the season and Stokes was injured anyway. If he plays in the first Test in Brisbane on 23 November, he will not have missed any international cricket that he was fit to play in.
Secondly, how will Stokes even handle the experience of being in Australia? On the last tour, Broad was given horrendous abuse following the furore over him not walking at Trent Bridge in 2013. It was nasty and personal.
Broad handled it well, but would that have been the case if he had been more hot-headed? Would that be a good environment for Stokes to be in?
Ultimately, the only way I can see Stokes being in Australia is if the police take no action against him.
There is one other strand to this saga, that of how the winter of all England cricket supporters could be affected by the events of a September night in Bristol.
With no Stokes, England's chances of defending the Ashes are severely weakened, disappointing all of us who want them to do well.
Thousands of people will spend huge sums of money travelling around the world to see England play, while countless others will follow the action through the long winter nights back home.
It is for Stokes to consider the wider ramifications of his actions.
Sportsmen are responsible not only for themselves, but for their team-mates, their supporters and the game that they play.
It is a lesson that, with the loss of Stokes, is being learnt the hard way.