Glamorgan Cricket: Matthew Maynard would consider return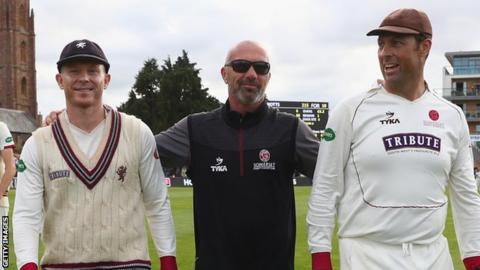 Matthew Maynard would consider a return to Glamorgan after leaving his role as Somerset director of cricket.
Ex-England batsman Maynard has left Taunton after three years in charge despite having two years left on his contract.
The former Glamorgan coach and captain says he would welcome a return to the Swalec Stadium in some capacity.
"It's a wonderful club and it may happen, we will have to wait and see," said Maynard.
He says he plans to meet with the Welsh country's director of cricket Hugh Morris.
"I have to sit down and talk to Hugh and that won't be immediate," he said.
"I am going to take a break for a while and find myself an agent which I have never had before.
"I have had a couple of job offers but I don't want to jump straight back in.
"There are a lot of jobs out there and I will take my time."
Glamorgan chief executive Morris admitted he is looking for some batting expertise.
"I have not spoken to Matt about it," said Morris.
"We are going to consider options where our batting is concerned.
"We have a lot of young players, they need some help with guidance.
"We have had no discussions yet but we would like to go down the route of having someone to support our younger batters."
Maynard says he is prepared to work for the current head coach, his former Glamorgan teammate Robert Croft.
"I like Crofty and I think he is a top lad," said Maynard.
"He has a wealth of tactical and technical knowledge in batting and bowling.
"He is an excellent coach. To work alongside him or beneath him would be great but we will see what happens."
Specialist role
Maynard is prepared to be deployed in a more specialist position after taking a head coach and director of cricket role at Somerset.
"Ever since I have finished playing, apart from England, I have done both roles of head coach and director of cricket," said Maynard.
"There is a lot of pressure at times with regards to selection and all team matters.
"Having done that for 10 years having a more specific part of the game with less responsibility would be refreshing at this stage.
"I do enjoy the the talent spotting aspect of the director of cricket role but the hands on role of working with professionals is something I will always love."
Maynard says his departure from Somerset was amicable after the county decided to split his old position into roles with Andy Hurry becoming director of cricket and Jason Kerr named as head coach.
"It was a strange week and keeping the news from the lads was tough," said Maynard.
"I have genuinely loved my time here. It's a special club with an extraordinary fan base."