Andrew Gale: Yorkshire coach has county's backing despite tough season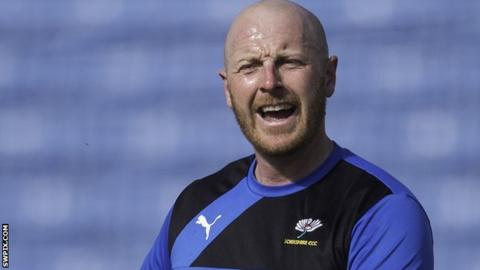 Yorkshire director of cricket Martyn Moxon says coach Andrew Gale has the county's full support despite a difficult first season in charge.
The Headingley side only ensured their Division One status in the final Championship game of the summer.
They also struggled in the shorter forms of the game, with a group stage exit in the T20 Blast and a quarter-final defeat in the One-Day Cup.
"Andrew's appointment was a long-term measure," Moxon told the club website.
"I am giving Andrew Gale my 100% backing. When you call for change, the change that needs to happen is the mindset of our players.
"Having that desire to put in the work required to be successful in County Championship Division One.
"That's the big change that needs to happen."
Former captain Gale retired from playing to take over from Jason Gillespie at the end of last season.
Yorkshire picked up just 24 batting bonus points all season, four fewer than relegated Middlesex, and their campaign ended with a three-day defeat by champions Essex.
Moxon believes the side struggled to cope with the loss of captain and batsman Gary Ballance after he was recalled to the England set-up.
"Clearly, our batting has continued to be an issue, and I reinforce Andrew Gale's recent comments in the media that we have players who are very talented and have shown in the past their capabilities," he added.
"However, for some reason, they have underperformed this year.
"Once Gary Ballance was picked for the England team, we didn't have an individual who was capable of getting us out of trouble."