Steve Magoffin: Worcestershire re-sign fast bowler from Sussex for 2018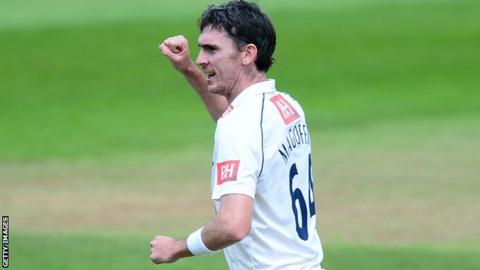 Division Two champions Worcestershire have made their first signing for 2018 by re-signing paceman Steve Magoffin from Sussex on a one-year deal.
The 37-year-old will return to New Road a decade on from the season he spent with the Pears in 2008.
Australia-born Magoffin, who became a UK citizen in 2016, has taken 334 wickets in six years with Sussex.
He was offered a contract by several other counties, including another Division One side.
"Steve is a proven wicket-taker in Division One," said Worcestershire director of cricket Steve Rhodes. "The impact he has had on county cricket has been immense.
"We were the first county to sign him up as an overseas player and he did a marvellous job. He hits the seam regularly and gets good players out."
Magoffin, who spent the 2007 season at Surrey, said: "I am delighted to be going back to Worcester. I'm very grateful for the opportunity to be able to return after 10 years.
"I still feel I've got plenty in the tank. I wouldn't get myself out there if I didn't think I could still perform at that level and put myself up against the best batters in the country.
"It was a great experience with Sussex but they are obviously moving in a different direction and I am as well. They will be fine and they've got some good young bowlers down there as well."
Steve Magoffin's magic numbers
Magoffin took over 50 County Championship wickets in five of his six seasons with Sussex.
In 2014 he finished the season as Division One leading wicket taker with 72 scalps.
He took 23 wickets in seven matches for Worcestershire in 2008.
He has taken 17 wickets in six previous first-class matches at New Road.
His career haul stands at 581 first-class wickets at an average of 23.23, including 27 five-wicket hauls.