Wasim Khan: Leicestershire chief executive demands show of pride from players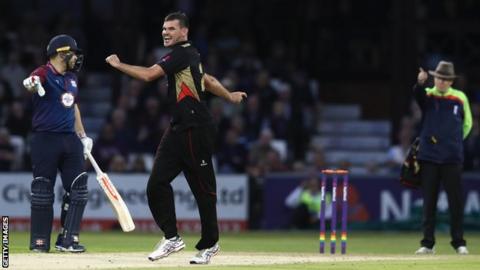 Leicestershire's 2017 season has "not been good enough" and the players need to show some pride, according to chief executive Wasim Khan.
The club failed to win a County Championship match, finishing bottom of Division Two with nine losses from 14.
Pierre de Bruyn left as head coach in September, with Graeme Welch and John Sadler assuming interim control for the final three games of the season.
"The table doesn't lie. Enough is enough," Khan told BBC Radio Leicester.
"This year just isn't good enough. This club has been down and out for a long time now in four-day cricket.
"We need to make some wholesale changes in terms of how we operate, and the person we bring in."
Leicestershire did reach the quarter-finals of the Twenty20 Blast and finished sixth in their One-Day Cup group, recording three wins and a no result from eight fixtures.
But Khan said: "If you look back on the four-day season - which in many ways is your health check as a club - it has been riddled with disappointment.
"The message is loud and clear. It has been hugely disappointing and demoralising and we need to bring some pride into performances at this club.
"You start every season with optimism and hope for and expect the best, but we have been saying that for two or three years and it hasn't worked. Optimism just isn't enough."