Glamorgan Cricket: Coach Robert Croft 'encouraged' by youngsters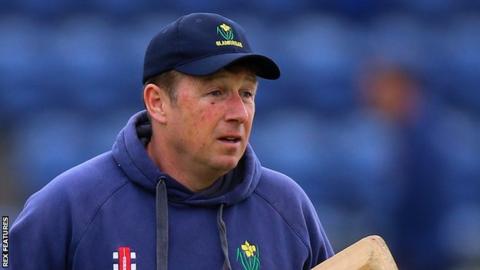 Glamorgan coach Robert Croft says he was encouraged by the character shown by his young players at the end of the 2017 Championship Division Two season.
Glamorgan beat Kent by five wickets to finish with three wins and seven losses, a marginal improvement on 2016.
"From the young players point of view, I'm encouraged to see they are showing character and fight for the Glamorgan badge," said Croft.
"But building a four-day team takes time."
The former England and Glamorgan spin bowler added: "It's very important these young players get the feeling of winning, and we came very close in Colwyn Bay against Sussex (losing by one wicket), and they can feel what it's like to win now."
Glamorgan's final position of seventh in was up one place on 2016, while they reached the semi-finals of the T20 Blast, one round further than 2016, and won one match more in the One-Day Cup.
They fielded seven home-grown players in the win over Kent, all aged 25 or under, contrasting with the mostly-imported team for the lucrative T20 Blast tournament.
T20 'unfinished business'
"The Championship has finished off okay since this young team should have beaten Sussex," Croft told BBC Wales Sport.
"I think only Durham have played more academy graduates than we have this season, and that's encouraging for the future.
"To go to T20 Finals Day was good, but I am disappointed because we had a side I felt could have won it, so it feels like there's unfinished business there.
"In 50-over cricket we won four and lost four, but had it not been for a game we butchered at Radlett (losing to Middlesex by 16 runs), we'd have got through to the quarter-finals."
Hogan still keen to captain
Fast bowler Michael Hogan, 36, took over the Championship captaincy mid-season from Jacques Rudolph, and and wants to carry on the role after spearheading the final victory with a career-best match haul of 10-87.
"We match up well in white-ball cricket, but red-ball cricket is what we need to improve on," said Hogan.
"Consistency is our main issue. There's a lot of young guys who need to learn the craft of four-day cricket.
"I love doing the captaincy, it brings the best out of my game and . . . I'd be more than happy to take over permanently."
Croft seems keen to go along with that.
"I hope so, Michael isn't a guy who demands respect, he commands it by deed," he said.
"He's very sharp and astute, he's always thinking in an aggressive way on the field, and so far he's been a delight to work with."
Glamorgan will now turn their attention to recruiting one or two experienced top-order batsmen, after the retirement of South Africa opener Jacques Rudolph and the decision of compatriot Colin Ingram to play only limited-overs cricket from the 2018 UK season onwards.