Ben Stokes: England all-rounder needs to learn fast, says Alec Stewart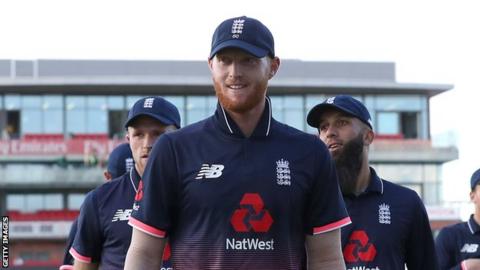 Ben Stokes needs to "learn fast", says former captain Alec Stewart after the England all-rounder was arrested following an incident outside a Bristol nightclub early on Monday.
Stokes was held on suspicion of causing actual bodily harm.
The 26-year-old was named in England's squad for the Ashes tour of Australia on Wednesday.
Test vice-captain Stokes has been released by police while investigations continue into an incident outside the Mbargo club at about 02:35 BST, which left a 27-year-old man needing hospital treatment for facial injuries.
"He just needs to learn and learn fast," Stewart told BBC Radio 5 live. "He's had a couple of hiccups when he was younger but we've got to make sure we are not talking about this in six months' time or six years' time."
Stokes, who has a minor fracture in his right hand, missed England's fourth one-day international against West Indies on Wednesday.
England coach Trevor Bayliss confirmed the Durham player would continue as the national side's vice-captain.
"No-one is trying to brush over anything," he said. "What he has shown so far, he is a leader in the group when it comes to cricket. There's no denying that. I am sure there will be some investigations going forward but at the moment I am quite happy for him to be vice-captain."
Team-mate Alex Hales, who was with Stokes on Sunday night, returned to Bristol on Tuesday to help police with inquiries. He also did not play on Wednesday but will be available for the fifth ODI at the Aegas Bowl, Southampton, on Friday.
Another former England captain, Michael Vaughan, said Stokes needed to find alternative ways of letting off steam and must become as "streetwise" off the pitch as he is on it.
"Ben Stokes can't say he was not warned," said BBC Test Match special pundit Vaughan in his Daily Telegraph column.
"I have been privy to private conversations about him recently and he has been given strong warnings about his lifestyle.
"People have said to him there is only one person who can ruin your career and that is you. Nobody else."
'Everything around him has changed'
Vaughan's view was echoed by other former England captains, including David Gower, who told BBC Radio Four he was "pivotal" to the team.
"Ben Stokes has done a lot of hard work over the past two or three years to mature and he has matured a lot. If you're in the wrong place at the wrong time you look at why," he said.
Sir Ian Botham told Sky Sports: "Ben has got to understand that he is probably the most talked-about cricketer in the world. He's a superstar.
"He's got to start thinking: 'How do I keep Ben Stokes out of this situation?' He's got to be selective.
"The world is his oyster. He can be the best in the world. If that means you can't go out for a few beers with your buddies, then so be it."
Nasser Hussain: "You have to treat people like grown-ups. When you go out, how do you behave?"
Michael Atherton: "He is England's most important cricketer and he is the most talked-about cricketer in the land. While he hasn't changed, everything around him has changed.
"It has to come from within. This might be the perfect moment for Ben Stokes to say, 'I've got to take responsibility and stop this from happening.'"
'He is not streetwise off the pitch'
Stokes became the Indian Premier League's most expensive foreign player when Rising Pune Supergiant bought him for £1.7m in February.
"He has the talent, plays all three formats relatively easily, and has the world at his feet," added Vaughan.
"In time we could be describing him as a cricketing genius. But he has to understand that if he wants to be a superstar, and go over to India, earn huge IPL contracts and keep them, he has to be careful off the field.
"I am not saying be teetotal or not have a flutter at the casino. He needs a way to let off steam and live a life.
"But on the field he is a streetwise cricketer. He understands the game. He gets cricket. But he is not streetwise off the pitch and that could be his downfall. I am hoping this is his lesson."
Stokes was sent home from an England Lions tour for late-night drinking in 2013, while in 2014 he missed the World T20 after breaking his hand when punching a dressing-room locker in frustration at a poor run of form.