Andrew Flintoff: Former England captain to join Lancashire board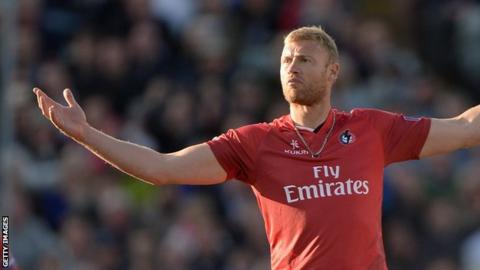 Former England captain Andrew Flintoff is to join the Lancashire board while Paul Allott is to be the club's new director of cricket.
Flintoff, 39, made 250 Lancashire appearances between 1995 and 2014.
Flintoff, who twice won the Ashes with England, said: "I'm honoured to be asked to join the board."
A busy day saw Keaton Jennings and Graham Onions move to Old Trafford, while Kyle Jarvis is to return to Zimbabwe to play international cricket.
The Lancashire Cricket Board (LCB) and LCCC Foundation will also merge to form the Lancashire Cricket Foundation, which will be separate from the club.
The new foundation, headed up by Lancashire Thunder manager Bobby Cross - brother of Lancashire and England bowler Kate Cross - will aim to grow cricket participation in the county as well as increase attendances.
Former all-rounder Flintoff added: "I have talked to the chairman about the future and what the club and the new Lancashire Cricket Foundation wish to achieve, and it is a hugely exciting time for the game of cricket in Lancashire, and one that I am proud to be part of and contribute to."
Allott, 61, takes up the role as the club's cricket director, which has been vacant since Ashley Giles left to rejoin Warwickshire as their sport director in December 2016.
Allott, who has recently been a board member at the club, played for Lancashire between 1978 and 1992 and made 472 Red Rose appearances.
"It's a huge honour to be appointed to the role of director of cricket. It is a fantastic time for cricket as a whole, and especially in Lancashire," he said.
"We have a strong history in developing top-level cricketers and this is matched by a strong legacy of club cricket and we're all looking forward to developing this over the coming years."