Jim Troughton: Warwickshire's Edgbaston evolution under way, says Bears coach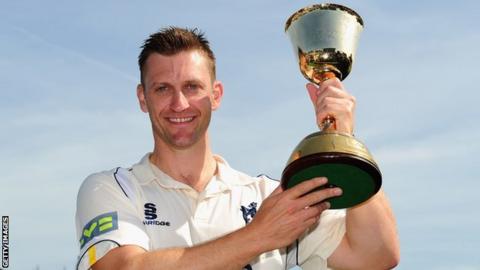 Warwickshire first-team coach Jim Troughton says the Bears' positive end to the 2017 season shows how far their healing process has already progressed.
Despite reaching T20 Blast Finals Day at their Edgbaston home for a third time in four years, the Bears finished bottom of the County Championship.
They suffered nine defeats in 14 matches, five of them by an innings.
"When you're not playing well in four-day cricket, it's a slow death," Troughton told BBC WM.
"We're in the results business and we've not been good enough. It's a cyclical thing. It's a painful one at the moment and it's been tough to take.
"But it's a question of how we react. We're an evolving team and we're doing that quicker than other teams.
"You look at a couple of Division One teams who've been very successful over the last couple of years who are maybe 12 or 18 months behind us in hitting that transitional period."
Bears team in transition
Troughton and Bears director of cricket Ashley Giles had already worked successfully together as captain and coach when they won the County Championship with Warwickshire in 2012.
When they resumed their working partnership in January, they were faced with a squad containing several players over the age of 30.
It was not until they suffered three early-season innings defeats that they truly comprehended the full scale of the task they faced in rebuilding. But address it they have.
On top of the delayed arrival after injury of seamer Olly Stone from Northants, they made three more three signings from other counties, Surrey batsman Dom Sibley, Yorkshire all-rounder Will Rhodes and Somerset batsman Adam Hose.
They have also given valuable first-team experience to several more of their own products - batsman Matt Lamb and Liam Banks, spinners Sunny Singh and Alex Thomson and fast bowler Grant Thornton.
Opener Ed Pollock and all-rounder Aaron Thomason both helped the mid-season transformation of the T20 team - and the biggest bonus of all was the discovery of Australian fast bowler Ryan Sidebottom.
Having started the season as Thornton's new ball partner with Birmingham League champions Berkswell, the 28-year-old Victorian ended the season as Warwickshire's main strike bowler - with 23 wickets in six matches.
That helped the Bears come out just on the wrong side of a narrow defeat by Yorkshire at Headingley, followed by an encouraging home draw against Hampshire, who had to grind out the final day of the season at Edgbaston to avoid relegation.
There is still the matter of sorting out the captaincy issue. Jonathan Trott ended the season as skipper, having inherited the job in August when Ian Bell quit to focus on his batting. But the plan is to let the dust settle before deciding who should lead the side in 2018.
And, as things stand, they are happy to have ended the season on a relative 'high', with some much need forward momentum.
"From the moment we got officially relegated after losing to Essex, we needed a reaction," said Troughton. "To show that we weren't just going to drift through the rest of the season and feel sorry for ourselves.
"Now we've put down a few markers. We're still having lapses of play when we put ourselves under pressure.
"But we at least had chance to win those last couple of games, which is a lot better position than losing by an innings every week."
Analysis
BBC WM's Clive Eakin
The end of Warwickshire's 10-year spell in Division One looked likely to end after three innings defeats early in the season.
It quickly became apparent that the county had asked for one year too many from the established players who have brought them success in past seasons.
While a number of key men approached the end of their careers there was a clear poverty of young players coming through the ranks ready to take on Division One cricket. The gap between the old and the young was unbridgeable.
Ashley Giles is right to warn against believing Warwickshire's return to Division One will be a formality but he has won promotion at first attempts with both the Bears and Lancashire.
The recruitment for next season started early - and the arrivals of Dom Sibley, Adam Hose and Will Rhodes should help improve the balance of the squad.
By the end of the season, there were encouraging signs from the young players coming through, notably batsman Matt Lamb and spinner Sunny Singh."