Ashes 2017-18: England squad - as chosen by BBC Sport users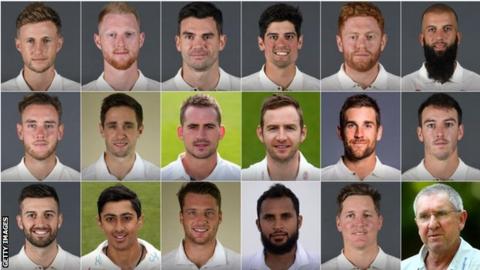 With England starting to turn their attention towards their Ashes defence, you have picked who you want to see on the plane to Australia.
More than 150,000 of you selected your XI and, with England set to unveil their touring party on Wednesday at 10:00 BST, BBC Sport has put together your Ashes squad.
There's a place for Alex Hales, a move up the order for one established player and Adil Rashid makes the cut as the back-up spinner in your ideal squad for the five-Test series.
England's Ashes squad - as chosen by BBC Sport readers: Joe Root, Alastair Cook, James Anderson, Ben Stokes, Jonny Bairstow, Moeen Ali, Stuart Broad, Chris Woakes, Alex Hales, Mark Stoneman, Dawid Malan, Toby Roland-Jones, Mark Wood, Haseeb Hameed, Jos Buttler, Adil Rashid, Gary Ballance.
We asked you to pick your Ashes XI. The 17 most-selected players make up the BBC Sport readers' Ashes squad and they are listed here in order of popularity.
Joe Root (batsman) - selected by 98% of users who voted
Age: 26; Tests: 60; Runs: 5,323; Average: 53.76
The England captain spent the summer batting at four - and made two centuries in the process - but Root is your most popular choice to bat at three in Australia.
Ben Stokes (all-rounder) - 97%
Age: 26; Tests: 39; Runs: 2,429; Average: 35.72; Wickets: 95; Average: 33.93
Stokes was one of the few bright points of the 2013-14 Ashes series, scoring his maiden Test century at Perth and finishing the series with 15 wickets. His favoured position in the batting among BBC Sport readers is six, with 52% of users who selected him placing him there.
James Anderson (bowler) - 97%
Age: 35; Tests: 129; Wickets: 506; Average: 27.39
Red ball or pink ball, it doesn't matter. England's leading Test wicket-taker was by far and away the most popular choice to spearhead the attack in Australia. His 43 wickets in 13 Tests down under have come at a cost of 38 runs apiece.
Alastair Cook (batsman) - 97%
Age: 32; Tests: 147; Runs: 11,629; Average: 46.33
He averages 49.53 in Tests in Australia, having scored 1,288 runs in three Ashes campaigns, so it is no surprise Cook is the favourite to open the batting on 23 November.
Jonny Bairstow (wicketkeeper) - 96%
Age: 27; Tests: 45; Runs: 2,824; Average: 39.77; Dismissals: 126
Bairstow is a much-improved player, both with the bat and the gloves, since England's last trip to Australia. He averages 32.41 in Tests this year and is a popular choice to bat at seven.
Moeen Ali (all-rounder) - 96%
Age: 30; Tests: 44; Runs: 2,288; Average: 34.66; Wickets: 128; Average: 37.32
It was a close call, but 44% of users opted for the all-rounder coming in at eight rather than seven. Moeen averages a shade under 30 in 17 Tests at number eight.
Stuart Broad (bowler) - 94%
Age: 31; Tests: 109; Wickets: 388; Average: 28.81
Broad did not have a particularly profitable summer, taking 20 wickets at almost 34, but a vast majority of users want him to continue his successful bowling partnership with Anderson.
Chris Woakes (all-rounder) - 67%
Age: 28; Tests: 18; Runs: 675; Average: 32.14; Wickets: 50; Average: 30.60
Despite being limited to just one Test appearance this summer after struggling with a side strain, Woakes is a popular choice to bat at nine. He made his highest score of 66 in that position against Sri Lanka in 2016.
Alex Hales (batsman) - 60%
Age: 28; Tests: 11; Runs: 573; Average: 27.28
Hales began his Test career opening alongside Cook, and there was a quibble among BBC Sport readers about where he should play. Of those who selected him, 39% placed him at number two, with 26% seeing him as a number five.
Mark Stoneman (batsman) - 50%
Age: 30; Tests: 3; Runs: 120; Average: 30.00
Stoneman was the most popular choice to open the batting with Cook, having occupied the number two spot most recently. He made one half-century and an unbeaten 40 in five innings in his debut series against West Indies this summer.
Dawid Malan (batsman) - 36%
Age: 30; Tests: 5; Runs: 189; Average: 23.62
The Middlesex batsman has had a mixed start to his Test career, with two fifties and six scores of 20 or less. Most BBC Sport readers see his best position as five.
Toby Roland-Jones (bowler) - 33%
Age: 29; Tests: 4; Wickets: 17; Average: 19.64
Although he has since suffered a stress fracture of the back that could rule him out of the tour, Roland-Jones was a popular choice as one of England's frontline pace bowlers.
Mark Wood (bowler) - 28%
Age: 27; Tests: 10; Wickets: 26; Average: 40.65
Wood has been limited to two Test appearances this year after struggling with a series of injuries, but he was picked as England's fifth fast bowler, ahead of Steven Finn and Jake Ball.
Haseeb Hameed (batsman) - 25%
Age: 20; Tests: 3; Runs: 219; Average: 43.80
Another injury doubt for England to contend with after the youngster broke a finger on his right hand batting for Lancashire, a problem suffered after many of your votes had been cast. Hameed had just begun to find his form, making two first-class half-centuries against Essex and Somerset.
Jos Buttler (wicketkeeper) - 20%
Age: 27; Tests: 18; Runs: 784; Average: 31.36; Dismissals: 54
Buttler has not played Test cricket since December last year and averaged just 15.25 in the 2015 Ashes series but, as a back-up wicketkeeper-batsman, he was preferred to Surrey's Ben Foakes.
Adil Rashid (bowler) - 20%
Age: 29; Tests: 10; Wickets: 38; Average: 42.78
Despite becoming an integral part of England's one-day set-up, Rashid has not been able to secure a place in the Test side. He played all five of England's Tests against India last winter, taking 23 wickets at 37 apiece.
Gary Ballance (batsman) - 19%
Age: 27; Tests: 23; Runs: 1,498; Average: 37.45
He made his Test debut in Sydney in 2014 and since then he's scored 1,498 Test runs at an average of 37.45, but Ballance's Test appearances this summer have been limited by a broken finger and a lack of game time.
Who didn't make the cut?
Tom Westley, the latest occupant of the number three slot, was picked by 14% of users, finishing just behind Ballance. Steven Finn - who was deemed "unselectable" during the last tour in Australia - was picked by 10% of people, while 5% opted for leg-spinner Mason Crane.
Total selections
Root 98%, Stokes 97%, Anderson 97% Cook 97%, Bairstow 96%, Moeen 96%, Broad 94%, Woakes 67%, Hales 60%, Stoneman 50%, Malan 36%, Roland-Jones 33%, Wood 28%, Hameed 25%, Buttler 20%, Rashid 20%, Ballance 19%, Westley 14%, Finn 10%, Crane 5%, Jennings 4%, Northeast 4%, Livingstone 4%, Foakes 3%, Clarke 3%, Dawson 3%, Robson 2%, Ball 2%, Porter 2% Leach 2%, Duckett 1%, Coad 1%, Browne 0.8%, Gubbins 0.6%, Burns 0.5%
BBC users' squad selected based on data until 06:00 BST on Monday 25 September.