Glamorgan: Robert Croft welcomes ECB interest in Lukas Carey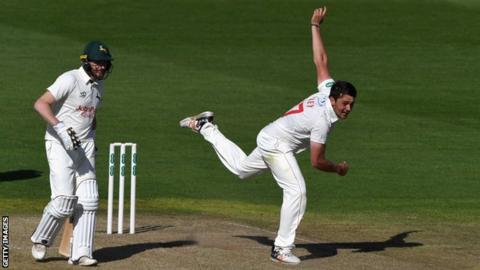 Glamorgan coach Robert Croft has welcomed ECB interest in 20-year-old fast bowler Lukas Carey,
He has claimed 29 wickets in eight Championship matches in his first full season in the first team in Cardiff.
"I know he's on the radar with the ECB [England development] programmes, so that's encouraging from his perspective and ours," said Croft.
Glamorgan batsman Aneurin Donald and spinner Andrew Salter have already had winters in Australia funded by the ECB.
Carey claimed 3-49 in the rain-ruined draw with Derbyshire, as well as having three catches dropped off his bowling.
His form is currently being monitored by specialist advisors on behalf of the ECB's fast-bowler development chief Kevin Shine.
"That's as well as I've seen Lukas bowl this season, because he bowled well throughout both spells," said former England spinner Croft.
"Normally with young bowlers you see a good spell then potentially an indifferent one, but the encouraging sign was that he bowled two good spells, got a lot out of the wicket and moved the ball in the air, so he was unlucky not to come away with a five-wicket haul."
Glamorgan captain and fellow seam bowler Michael Hogan was also pleased with his young team-mate.
"He's put some good performances on the board and people are starting to take notice which is good for us and him. He's a very talented and exciting prospect."