Ben Stokes: Trevor Bayliss defends decision to rest all-rounder in Durham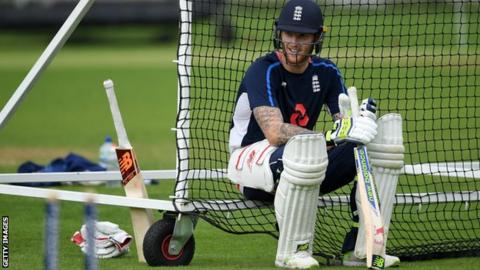 England coach Trevor Bayliss has defended the decision to rest all-rounder Ben Stokes for the Twenty20 international against West Indies.
The game, on 16 September, is a sell-out at Stokes' Durham home ground of Chester-le-Street.
Writing in the Mirror, former England all-rounder and Durham chairman Sir Ian Botham criticised the move.
"It was a collective decision between the management and the player in that Ben needed a break," said Bayliss.
"It is just unfortunate that it is a one-off T20 at Durham. We need him fresh and ready to go for an important one-day series against a strong West Indies side.
"The fact the game is at Durham is a coincidence. We're mindful we've got a busy winter coming up and finding a gap is difficult."
Stokes joins fellow all-rounder Moeen Ali in being left out of a repeat of the 2016 World T20 final, which England lost.
Both men are available for the five-match one-day series that follows, England's last international fixtures before this winter's Ashes tour.
Botham described the decision to leave Stokes out of the T20 as a "kick in the teeth".
"I don't believe for one minute that Ben wouldn't want to play in front of his home crowd," said Botham, who ended his playing career with Durham.
"I feel for the people at the club, who have put in so much hard work around this game and built a lot of our promotion around Ben, that he will not be playing after all."
The game is the first international to be held at Chester-le-Street since Durham were punished by the England and Wales Cricket Board over financial issues.
As well as being relegated to Division Two of the County Championship, the county were stripped of the right to host Test matches.'
ECB have gone this one wrong' - Analysis
Former England cricket captain Michael Vaughan on Radio 5 live's The Tuffers and Vaughan Cricket Show
Durham have gone through so much difficulty. The majority of the tickets have been sold already. The majority of those have been bought by people who think 'this is great, watch one of our own playing for England'.
A T20 game for three hours does not take a huge amount out of your body. The ECB do a lot of good things but they have got this one completely wrong.
'I wouldn't have bought a ticket if I had known'
Durham used Stokes' image to advertise the game, choosing this image as the cover photograph on their Facebook page.
When Durham shared the ECB's squad announcement on their Facebook page on Monday, these were some of the replies:
Jane Gulliford Lowes: Makes a mockery of all the hard work put in by the Durham marketing staff. Would I have bought a ticket if I'd known Stokes was going to be rested? Of course not. Can you see Root and Willey being rested if the game was at Headingley? Ridiculous.
Kate Morrey: So Durham fans won't see Stokes playing in his home ground at all this season? Usual North/South prejudice from the ECB? They only give us international fixtures at start/end of season when the weather is more temperamental and now rest our home player! Seems they think cricket is inconsequential north of Headingley.
Kirk Walker: Looking forward to telling my eight-year-old son that Stokes isn't playing! To say I'm disgusted with the ECB is an understatement.
Drew Middleton: This is a joke, everyone in the North East going to this game wants to see Ben Stokes! If he needs a rest then leave him out of one of the ODIs!
Peter Nixon: You have got to be kidding us?! I want a partial refund then, resting Ben stokes at his home ground, what a joke and disgrace!