England v West Indies: Ben Stokes reprimanded by for ICC code breach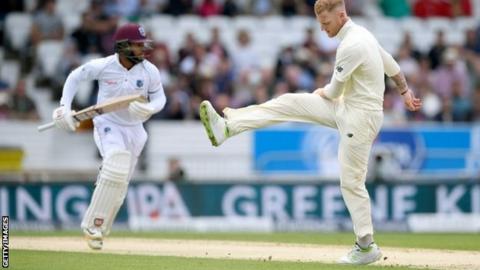 Ben Stokes has been reprimanded for using "obscene, offensive or insulting" language during day two of England's Test match against West Indies.
The 26-year-old all-rounder accepted he breached the International Cricket Council's code of conduct after being edged to the boundary by Shai Hope.
Stokes' "inappropriate comment" was heard through the stump microphone.
He had one demerit point added to his disciplinary record, and is now just one point away from a ban.
An ICC statement confirmed Stokes has three demerit points. If a player reaches four or more within a 24-month period, they will be converted into suspension points.
The two points Stokes picked up before Saturday came on 30 October 2016 and 26 November 2016.
Therefore, the first offence will be wiped from his record on 30 October 2018, while the second will be expunged on 26 November 2018.
Saturday's incident happened during the 101st over of West Indies' first innings at Headingley.
The charge was brought by on-field umpires Chris Gaffaney and S Ravi, third umpire Marais Erasmus and fourth umpire Nick Cook.
England won the opening match of the three-Test series by an innings and 209 runs but West Indies went into Sunday's third day of the second Test with a 71-run lead and five first innings wickets remaining.
Analysis - The case for the defence
Former England captain Michael Vaughan:
I thought Rabada being banned was petty. In international sport you don't say go and swear but under the heat of the battle the odd word may come out.
If it is that the case stump mic costs him a point, and the loss of a Test match, then what is better for the game?
Just turn the stump mic off. I want to see Rabada and Stokes playing Test match cricket.
Former England batsman James Taylor:
Personally, I don't care about it but some people clearly do.
There is an Ashes Test match around the corner and England can't afford to lose him. One more breach of this and Stokes will lose a Test match.
I think it is pathetic and petty. It is great that the stump mic is on as it gives the public insight but it shouldn't be used to catch people out.
Yes he shouldn't be swearing, but that is passion in the heat of the moment and you want to see Ben Stokes express himself.
There is no place for swearing - Swann
Former England spinner Graeme Swann:
I would never have had a problem when I was playing but now as a father, trying to bring up kids and get them into the game, there is no place for it.
The laws are there. You can scream and shout but don't swear.