Weekend club cricket results
Last updated on .From the section Cricket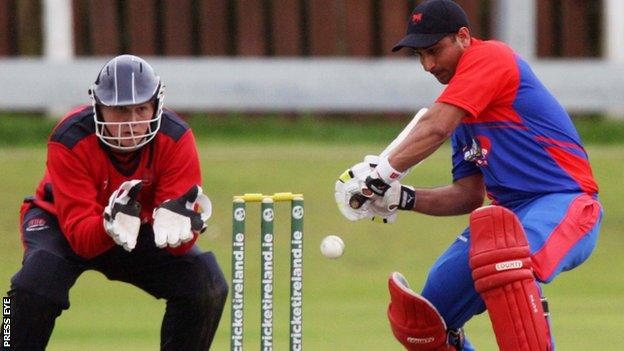 Clontarf won the inaugural All-Ireland Twenty/20 Cup with a 10-run win over Waringstown at The Lawn on Sunday.
Waringstown were 34-3 after 7.1 overs but Gregg Thompson came to the rescue with three sixes in his half century.
Later, although still behind the required run rate, Kyle McCallan forced the pace but the Ulster team still finished just short.
Sunday 20 August
Waringstown v Clontarf
Clontarf 151 for eight W Azmar 36, J Mooney 28, K McCallan 2-23
Waringstown 141 for seven G Thompson 60, A Dennison 34, J Mooney 2-14
Clontarf won by 10 runs
Saturday 19 August
Waringstown head the NCU Premier League table with 36 points after 11 of the 14 fixtures while CIYMS and North Down are both on 32 points from 11.
NCU Premier League
CIYMS v Lisburn
CIYMS 209-6 M K McGillivray 77, C Dougherty 63
Lisburn D/L target 183 from 37 overs - 79 D Robinson 3-15, A Coulter 3-23
CIYMS won by 103 runs
CSNI v Muckamore
Muckamore 175-5 (45 overs)
CSNI D/L target 197 from 45 overs
CSNI 200-4 M Amjad 61 no, J Kennedy 32
CSNI won by six wickets
Waringstown v Carrickfergus
Waringstown 212-7 (47.2 overs) J Hall 66, S Khan 33
Carrickfergus D/L target 221 from 44 overs - 167 (38.2 overs) P Botha 50, A Hagan 30
Waringstown won by 53 runs
Instonians P North Down
Long's SuperValu North West Premier League
Bready v Eglinton
Eglinton 199 S Thompson 71, T Garrett 44, D Scanlon 5-26
Bready 150
Eglinton won by 49 runs
Brigade P Coleraine
Drummond P Ardmore
Fox Lodge P Donemana