Peter Moores says Nottinghamshire's One Day Cup title gives confidence in T20 Blast
Last updated on .From the section Cricket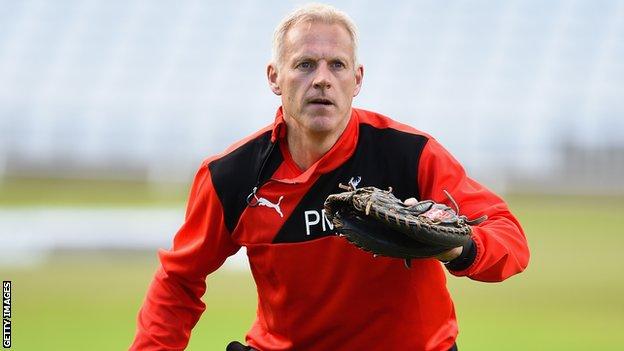 Nottinghamshire's One Day Cup success gives them belief they can win the T20 title, says head coach Peter Moores.
Notts qualified for the quarter-finals of the T20 Blast with an 11-run victory at Worcestershire on Sunday and are now likely to be at home in the last eight.
It is the ninth time the county have reached the knockout stage of the tournament, but they are yet to win it.
But Moores said the belief gained from their Lord's triumph this season will help their bid for a maiden T20 title.
"The fact that we've won a trophy already helps," said Moores. "We know we can get over the line but we're trying to take nothing for granted."
Notts beat Surrey by four wickets to win the One Day Cup last month and they remain on course to win three trophies, as they hold a 35-point lead at the top of Division Two of the County Championship.
The manner of Sunday's victory at Worcester - defending only 145 - gave Moores reason to be encouraged about his side's prospects in the shortest format.
"Before you get to the knockout stage you want to win in every single way so you know you've got that flexibility," he said.
"We've won with the batters banging it up front. We've won with the middle order showing they can take us through if we lose early wickets and at Worcester we won with the bowlers putting in an unbelievable performance defending a score.
"You always know going through a tournament that it doesn't always work. We ask the lads to take risks and be positive all the way through and playing that way it can't happen every time.
"We're prepared to scramble any way we can to get a win."