Weekend club cricket results in NI
Last updated on .From the section Cricket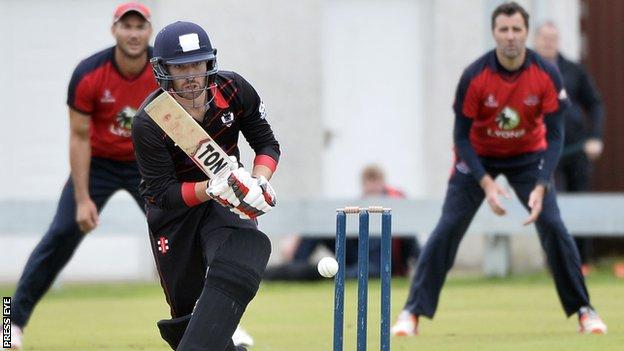 Sunday 13 August
It was a most beneficial week-end for Waringstown with a six-wicket Irish Senior Cup semi-final victory over Pembroke on Saturday followed by wins over Coleraine (nine wickets) and then Bready (79 runs) to clinch the Ulster Cup on Sunday.
The Premier League leaders now participate in the All-Ireland Twenty/20 Cup next Sunday and again face Bready, but this time at The Lawn.
Ulster Cup Twenty/20 final - Waringstown v Bready at Comber
Waringstown 158-7 (G Thompson 32, J Hall 31, M McClean 25, S Khan 25, R Kelly 2-30, A Lucas 2-42)
Bready 79 (14.4 overs) (K Hamilton 17, D Scanlon 14, L Nelson 3-11 (from two overs), G Kidd 3-16)
Waringstown won by 79 runs
The All Ireland Twenty/20 semi-finals and final will be played next Sunday:-
Waringstown v Bready at Waringstown, 11:00 BST
Cork County v Clontarf at Lisburn, 11:00 BST
The final is at Waringstown, 16:00 BST
Saturday 12 August
Irish Senior Cup semi-finals
Waringstown v Pembroke
Pembroke 187-9 R Hopkins 39, L Tucker 38, J Mitchell 2-23
Waringstown 188-4 (32.3 overs) L Nelson 84, S Khan 31 no
Waringstown won by six wickets
The Hills v Instonians
The Hills 244-6 A Van der Merwe 84 no, R Cartwright 78 no, N Smith 4-31
Instonians 125 J Shannon 32
The Hills won by 119 runs
The final between Waringstown and The Hills has been scheduled for Bready on 2 September.
North Down drew level with Waringstown on 32 points at the top of the NCU Premier League table but have played an extra game.
CIYMS are still in contention with 28 points after 10 fixtures and will also be hoping for a Waringstown slip-up.
NCU Premier League
Carrickfergus v CIYMS
CIYMS 278-4 J Matchett 96, N Jones 78, A Shetty 2-51
Carrickfergus 165 (39.5 overs) P Botha 45
CIYMS won by 113 runs
Muckamore v North Down
North Down 229-6 R Pretorius 106
Muckamore 170 R Haire 32, C Robinson 3-25
North Down won by 59 runs
Undefeated Donemana took a major step towards the double for the second successive season when they recorded a three-wicket Long's SuperValu Premier League win over Coleraine.
Meanwhile, Drummond have been relegated after losing again to the penultimate team Fox Lodge.
Long's SuperValu North West Premier League
Drummond v Eglinton
Drummond 155-8 A McDaid 49, R McDaid 40, S Thompson 3-27
Eglinton 156-2
Eglinton won by eight wickets
Donemana v Coleraine
Coleraine 186 D Cooke 41, S Lazars 41, J McBrine 4-14
Donemana 188-7 (42.5 overs) A McBrine 51, I Butt 33
Donemana won by three wickets
Ardmore v Brigade
Ardmore 130 (45 overs) K Martin 41, A Britton 4-13
Brigade 134-3 G McKeegan 50
Brigade won by seven wickets
Fox Lodge v Bready
Fox Lodge 213 B Allen 60, C Tshiki 59, I Samarooriya 5-39
Bready 140 (36 overs) I Samarooriya 60
Fox Lodge won by 73 runs
National Cup semi-finals
Malahide beat Derriaghy by 10 wickets
Terenure beat Strabane by six wickets