Saturday club cricket results in NI
Last updated on .From the section Cricket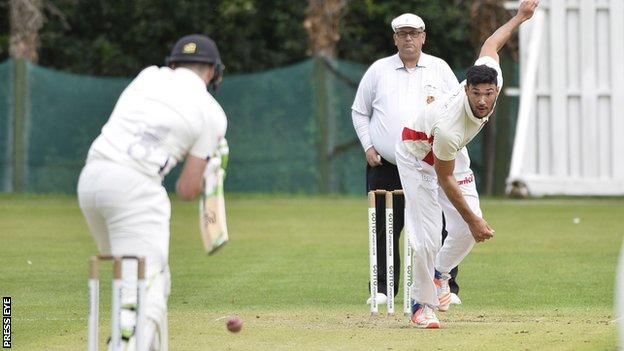 Waringstown still have a four point-lead over North Down in the NCU Premier League but bottom side Lisburn came close to causing an upset at Comber, where the home team managed an eight runs victory.
Fortunately for the Wallace Park team CSNI also lost and are only four points above them with an extra game played.
CIYMS V CSNI
CIYMS 205-8 C Dougherty 60 M K McGillivray 52 no
CSNI 155 (46.1 overs)
CIYMS won by 50 runs
North Down v Lisburn
North Down 210 Nathan Burns 84, R Pretorius 37
Lisburn 202-9 R Rankin 69, G Koopman 40, P Eakin 3-51
North Down won by eight runs
Waringstown v Muckamore
Muckamore 123 (39.1 overs) I Hussain 45, J Magowan 24, S Shah 3-16
Waringstown 124-4 J McCollum 37
Waringstown won by five wickets
Instonians v Carrickfergus postponed.
Coleraine's unexpected defeat by Eglinton makes Donemana firmer favourites to retain the Long's SuperValu Premier League title, even though the holders could only tie with Brigade.
Coleraine and Brigade have now lost twice while Donemana are still undefeated. At the other end Fox Lodge won only their second game of the competition, again against Drummond, so the Limavady team look destined for relegation.
Fox Lodge v Drummond
Fox Lodge 350-6 C Tshhiki 162 (16 4s and 11 6s)
Drummond 100
Fox Lodge won by 250 runs
Ardmore v Bready
Bready 221
Ardmore 152
Bready won by 69 runs
Donemana v Brigade
Brigade 228 N McDonnell 123 no
Donemana (D/L target 222) 221 I Butt 123
Match tied after James McBrine hit a six off final delivery
Coleraine v Eglinton
Eglinton 79 S Thompson 19, Varun Chopra 5-19, G Hume 3-15
Coleraine 73 S Lazars 25, R Allen 3-20
Eglinton won by six runs