Jersey coach Neil MacRae says young prospects remain committed to side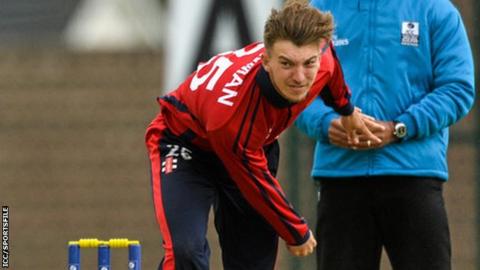 Jersey coach Neil MacRae insists his young prospects remain committed to representing the side, despite playing their cricket away from the island.
Jonty Jenner, who has an academy plus deal at Sussex, is one of four players currently in the Southern Hemisphere.
"It's really important to stress that they are very passionate about playing for Jersey," MacRae said.
"They're doing that as Jersey cricketers and it's for the benefit of the Jersey team when they do go away."
Bowler Ben Kynman is in South Africa with batsman Jenner, who is using his three months with Cape Town CC to help his chances of breaking into the Sussex first-team squad.
Wicketkeeper Jake Dunford and Will Robertson are in Australia while 16-year-old Harrison Carlyon, the youngest Jersey player in history, has a deal to play in the UK this summer.
"I'm in weekly contact with all of them while they're away and we look forward to all coming back together as a squad soon," added MacRae to BBC Radio Jersey.
"What's really good is that when we get the squad back together, they love playing for Jersey and there's a real intensity and a buzz about the squad coming together each time."