BBC Sport - Faf du Plessis: Journalist pushed into door by South Africa security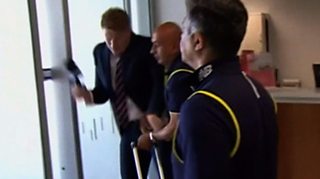 Journalist shoved into door by cricket security
Security for the South Africa cricket team jostle with an Australian news reporter as he tries to ask captain Faf du Plessis about ball-tampering allegations.
In a statement, Cricket South Africa said: "The Australian media and Channel 9 News in particular have been advised on numerous occasions over the past few days that Cricket South Africa and captain Faf du Plessis are not in a position to comment on the alleged ball-tampering issue.
"This is the third incident of a reporter aggressively harassing our players with blatant disrespect of the above-mentioned media protocol."
READ MORE: Faf du Plessis - South Africa captain charged with ball tampering v Australia
Available to UK users only.
Get Inspired Activity Finder
Run by the BBC and partners
Find ways to get active near you: