Toby Radford quits Ireland academy job after little more than a month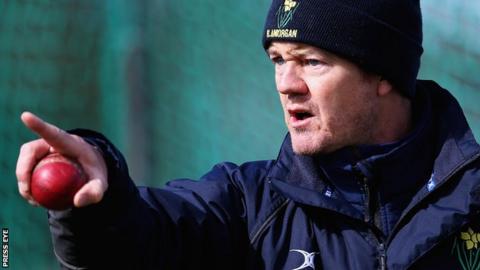 Toby Radford is leaving his position as Cricket Ireland's national academy and performance manager after little more than a month in the role.
The former Middlesex and Sussex batsman began the job in August but is now having to step down for family reasons.
"It has been a very difficult decision for me to make," said Radford, 44.
Former England batsman Chris Adams was appointed to the Irish role in May but two days later, reversed his decision for family reasons.
Radford said that his family circumstances meant he had "no alternative but to move back to the UK".
"In my short time in this role with Cricket Ireland, I have been very grateful for the positive attitudes, warm welcome and generosity of all the staff and players," added Radford, who previously has been head coach at Middlesex and Glamorgan and also had coaching roles with West Indies and England Lions.
"I have written a new academy template and programme for next year's Cricket Ireland academy intake, and would have dearly loved to be here to implement it.
"I wish Cricket Ireland every success with its continued drive for attaining ICC full member and Test match status."
Cricket Ireland's performance director Richard Holdsworth said the Irish governing body was "naturally disappointed to be losing Toby so quickly".
"Clearly our experience in the few months of recruitment for this position has been a challenge, particularly in relocating," said Holdsworth.
"We shall look at the position again and have an in-depth review of our human resources around the Shapoorji Pallonji Academy in order to get to the right outcome."